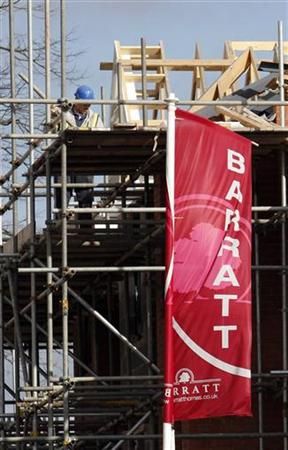 Shares in Barratt Developments were up on the FTSE 250 in afternoon trading after the housebuilder said it had seen a rise in completion revenues in the quarter ended 14 November.
The group said that underlying selling prices remained stable during the period and that the total average selling price on completions rose by around nine per cent to £180,000.
Total completion revenues also rose by around nine per cent.
Net private reservations per active site per week were reported as being down from 0.55 per cent to 0.45 per cent due to weaker consumer sentiment. Total forward sales were roughly equivalent to the previous year at £870.9 million.
The group said that in the year to date it had agreed terms on £219.9 million of land purchases at 42 sites, adding that it expected land purchases to slow as competition in the land market increases.
Barratt Developments said it expected its net debt at the end of the year to be around £575 million, down from £605.3 million at the end of 2009. By mid 2011 net debt is predicted to have fallen to between £400 million and £450 million.
The group said the outlook in the UK housing market remained challenging due to "constrained mortgage lending combined with weaker consumer confidence".
Mark Clare, Chief Executive of Barratt Developments, said, "Our strategy continues to be value and quality focused in a market where customers are taking longer to commit to house purchases. Whilst the autumn selling season has been weaker than anticipated, our encouraging performance on price is expected to drive margin growth for the year."
By 16:00 shares in Barratt Developments were up 1.50 per cent on the FTSE 250 to 74.65 pence per share.