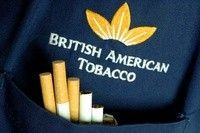 Shares in British American Tobacco were down on the FTSE 100 in morning trading after the cigarette maker reported a decline in volumes from subsidiaries in the nine months ended September 2012.
While group revenue increased four per cent in the period the group said that volumes were down particularly in Brazil thanks to a significant excise increase stimulating the trade in black market cigarettes.
Group volumes from subsidiaries dropped from 523 billion in the nine month period last year to 517 billion.
Despite the decline in volumes in the third quarter, British American Tobacco said it expected this to be offset in the fourth quarter, adding that its underlying market share was up.
Nicandro Durante, Chief Executive of British American Tobacco, said, "Economic recovery remains fragile this year and difficult trading conditions persist in many parts of the world. However, pricing remains strong, we are growing underlying market share and our Global Drive Brands continue to perform well. The trading performance of the Group is good and we are on track for another year of good earnings growth."
Richard Hunter, Head of Equities at Hargreaves Lansdown Stockbrokers, commented, "BATS has provided a reminder of an industry which is increasingly under pressure but which for the moment remains a defensive play.
"Excise tax rises, particularly in developed markets, are driving an increase in illicit trade. Meanwhile, the threat of litigation is never far away, whilst the full impact of global packaging rules remains to be seen. Along with a difficult economic environment, these factors have resulted in a drop in volumes. Set against these concerns, the product itself continues to benefit from inelastic demand, whilst BATS is an extremely diversified company and is therefore well placed for expansion into emerging markets. In addition, the sheer scale of the business has enabled an ongoing share buyback programme, whilst a dividend yield of 3.8% is attractive to income seeking investors.
"Long term, this may prove to be an industry in decline. For the moment, however, the company continues to extract value from markets wherever it exists. The share price performance has tended to reflect this, having risen 10% over the last year as compared to a 4.5% rise in the wider FTSE100. BATS still ticks all the boxes for those investors with a "bottom up" approach and the market consensus of the shares as a buy remains firmly intact."
By 11:10 shares in British American Tobacco were down 1.06 per cent on the FTSE 100 to 3,130.50 pence per share.