A new report describes the extent of atrocities that Iraqi civilians endured in the battle for west Mosul.
Isis used civilians as human shields and hung bodies from electricity pylons to warn others,while Iraqi and US-led coalition bombardments also killed a "huge number" of civilians, Amnesty International said.
The rights group interviewed 51 west Mosul residents, experts and analysts, and has called for an independent commission to investigate.
Its 50-page report, At any cost: The civilian catastrophe in West Mosul, Iraq, described how Iraqi and coalition forces, include British forces, subjected civilians to fire from weapons that should not have been used in densely-populated areas.
Lynn Maalouf, Amnesty International's Middle East Research Director, said: "ISIS's use of people as human shields does not lessen the legal obligation of pro-government forces to protect civilians.
"The scale and gravity of the loss of civilian lives during the military operation to retake Mosul must immediately be publicly acknowledged at the highest levels of government in Iraq and states that are part of the US-led coalition."
On Monday (10 July) Iraq's prime minister Haider al-Abadi formally declared victory over Isis in Mosul and he managed to wave a national flag with troops.
"I announce from here the end and the failure and the collapse of the terrorist state of falsehood and terrorism, which the terrorist Daesh announced from Mosul," he said.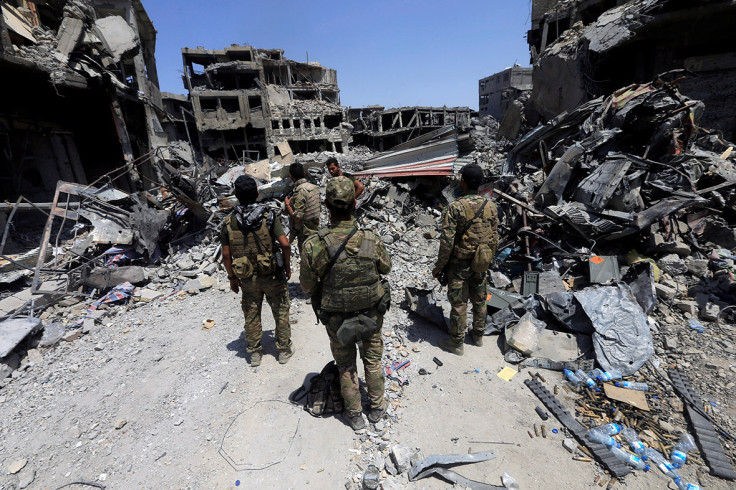 The nine-month battle for Mosul has killed thousands of civilians and displaced almost a million others.
Amnesty's report documents how Isis moved civilians into districts under its control and used them as human shields. They trapped people inside their homes by welding their doors shut and executed people who tried to escape.
Amnesty also said there were a pattern of attacks in which US-led coalition and Iraqi forces did not strike military targets, and that civilian deaths were caused after "inappropriate weapons" were used.
Amnesty has written to UK Defence Secretary Sir Michael Fallon on how the Ministry of Defence assessed its claim that there were no civilian casualties in the Royal Air Force's more than 700 airstrikes in the Mosul operation.
Kate Allen, Amnesty International UK Director, said: "The MoD's claim that hundreds of RAF airstrikes in and around densely-populated Mosul have resulted in absolutely no civilian casualties is at best implausible.
"At the moment, the UK's line on civilian airstrike deaths amounts to wishful thinking - they've heard no evil and they've seen no evil. It's not credible and it's not good enough."