Advances on three separate fronts are being made in the battle to retake Mosul from Islamic State (Isis).
Iraqi troops and security forces are approaching IS's Iraqi stronghold from the south while Shia troops are launching an assault from the west.
The Iranian-backed Shia militia fighters, known as the Hashid Shaabi (Popular Mobilisation) forces are targeting the town of Tal Afar, 55 km (35 miles) west of Mosul.
Their aim is to remove the possibility of the jihadists retreating to their positions in neighbouring Syria or being reinforced from Raqqa.
Ahmed al-Asadi, a spokesman for the Popular Mobilisation, told Reuters that IS fighters have been "flowing into Mosul" from Syria.
Meanwhile, a statement from the Iraqi military said the army's Ninth Armoured Division had occupied the village of Ali Rash, about 7km (4 mi) southeast of Mosul, after recapturing it from the ultra-hardline Sunni Muslim militants.
Further south, an Interior Ministry officer said security forces were advancing from the town of al-Shura, recaptured from IS on Saturday, along the Tigris river valley towards Mosul 30 km (20 miles) to the north.
The army and security forces, along with Kurdish peshmerga fighters, have been backed by US air and ground support in the campaign to remove IS from its power base in Iraq.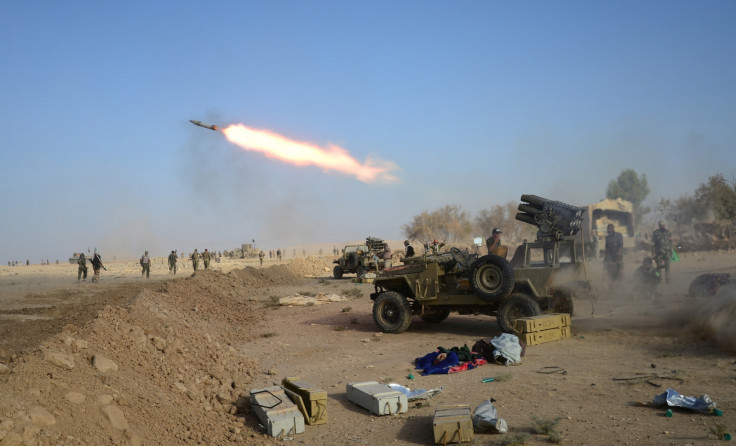 "There is cooperation between ... the army, federal police, Hashid and counter-terrorism [forces] and also the [local Sunni] tribes," Hadi al-Amiri, head of the Badr Organisation, the most powerful group within the Popular Mobilisation forces, told Reuters.
"The battle of Mosul will not be a picnic. It needs time, it needs precision, it needs a deep breath. We are prepared for the battle of Mosul even if it lasts for months."
The Shia militia's involvement in the operation remains controversial for some commentators.
Michael Pregent, Middle East analyst and a former US intelligence officer who served in Iraq, told Al Jazeera that the militias' move was not sanctioned by Iraq's government.
He said the hope of Baghdad and Washington was that IS would use the western route to flee Mosul to prepare for a "final battle" later in its Syrian bastion of Raqqa.
"The Shia militias are operating outside the control of the Iraqi government. They're not responsive to US requests not to participate," he said. "The military operation wasn't to encircle Mosul, it was to force ISIL out into Syria.
"The Shia militias are blocking that now. It sounds like a good military tactic but it's not synced, it's not coordinated. And the Shia militias remain a wildcard, based on what they've done in Ramadi and Fallujah."