A British man and an American have been killed in Syria while fighting against Isis.
The Guardian reported that 24-year-old Luke Rutter originally from Birkenhead and Robert Grodt from California were both killed on Wednesday 5 July in an ambush in the Isis-held city of Raqqa.
The duo were fighting alongside the Kurdish People's Protection Units (YPG) when they were killed.
Rutter had travelled to Syria in secret in April 2017, claiming that he had joined the French foreign legion.
He was killed when he came under heavy fire during a foot patrol and landed on a mine.
The YPG issued a statement saying: "At the end of training in the academy, when asked the usual question addressed to every volunteer: 'Are you ready to fight?' He firmly responded 'Yes' and said he wanted to fight the fascist organisation of IS."
Grodt, who was also killed in the ambush, became well-known during the Occupy Wall Street protests and particularly the love story of how he met his wife, Kaylee Dedrick, during the 2011 demonstrations against corporate power and inequality.
During a confrontation with the NYPD Kaylee was sprayed in the face with pepper spray and as she fell backwards, she landed into the arms of Grodt. It was love at first sight and they later got married and had a child together too.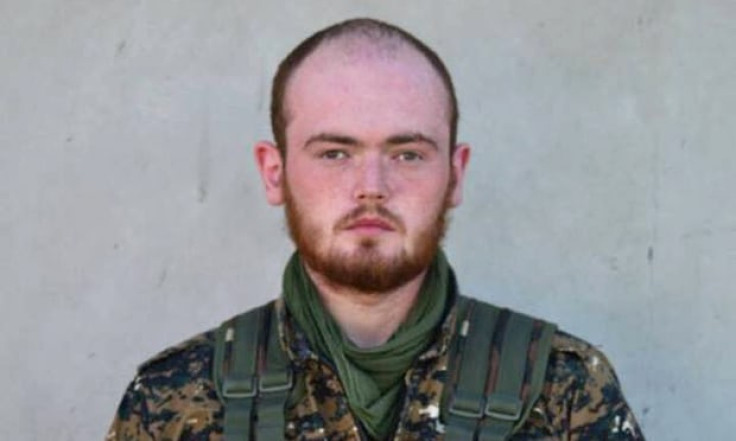 Elizabeth Clarke, a relative of the family wrote about Grodt on her Facebook page, saying: "He was there helping oppressed people, his lifelong passion. I will always remember Rob for his commitment to his ideals.
"He and Kaylee taught me how to chain myself to another person when protesting during their Occupy Wall Street days and I shall always remember the correct Greek pronunciation of my favourite sandwich, the gyro.
"Most importantly, I will be forever grateful that he was there for Kaylee when she most needed someone and that he was a wonderful father to Tegan. What a gift to leave the world! Thanks for being a part of our family."
The UK Foreign Office declined to comment on the matter instead reminding people not to travel to the region: "The UK advises against all travel to Syria. As all UK consular services are suspended in Syria, it is extremely difficult to confirm the whereabouts and status of British nationals there.
"Anyone who does travel to Syria, for whatever reason, is putting themselves in considerable danger."