Battle of the Somme 100th anniversary: On the trail of a long-lost relative killed during World War I
Steve Busfield found the grave of his great uncle in a tranquil cemetery at The Somme.
Exactly one hundred years ago the French and British Empire armies fought the Germans in the bloodiest battle of First first World War at the Somme. To commemorate the anniversary – and to watch some Euro 2016 football – my mother and I travelled to France – and made an extraordinary discovery.
Dotted around the region are many, many sad and humbling memorials; graves that bare witness to the thousands upon thousands of men who gave their lives believing they were fighting a war to end wars.
We travelled just over the French-Belgian border to Ypres, where the locals are so grateful to the thousands of soldiers from Britain and the Commonwealth who gave their lives defending a town that never fell into enemy hands that every single evening they have a Last Post ceremony at the town gates in commemoration.
If we thought there were a lot of graveyards around Ypres, the Somme battlefields are even more astonishing. The testaments to these dead include the huge Thiepval memorial engraved with 72,000 names of soldiers whose bodies were never found or identified. Can you imagine that horror?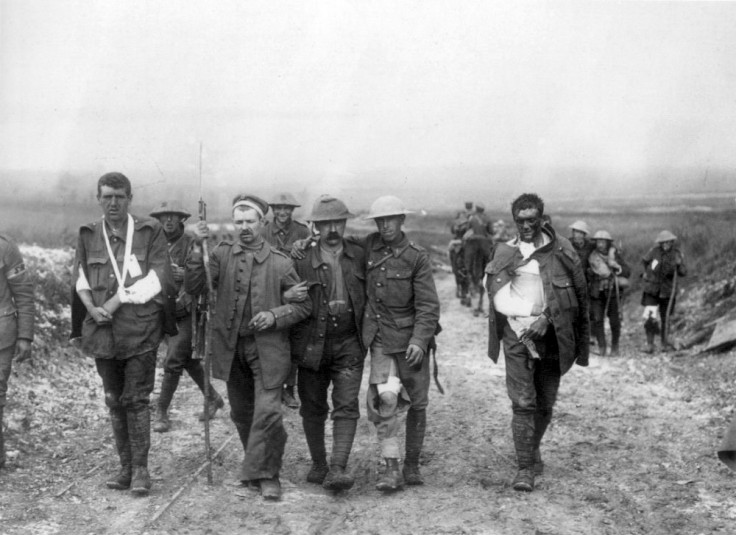 Through Robin Neillands' book The Travelling Historian's Guide to France, I became fascinated by the story of the Newfoundland Regiment. Nearly all the island's men of serving age volunteered to fight in a conflict 2,500 miles away.
On 1 July 1916, the first morning of the Battle of The Somme, 780 Newfoundlanders went over the top: 680 were killed or wounded. In Newfoundland 1 July is still an annual day of mourning. The island lost 80% of its men aged between 18 and 30 that day.
The Newfoundland Battlefield Memorial Park is tranquil to look at now, but it is also one of the best preserved monuments, and you can retrace the soldiers' steps and still see hell: the trenches, bomb holes and barbed wire poles.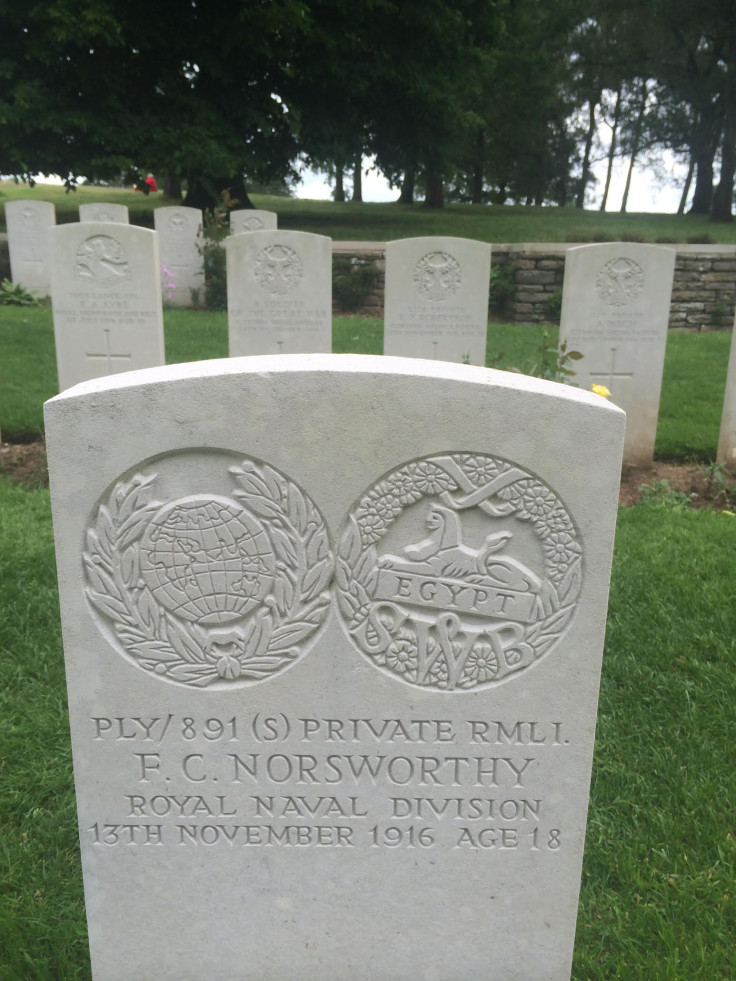 We followed the futile route the Newfoundlanders took. At the foot of the slope they never managed to march up is the small Y Ravine Cemetery. As I had at every other monument I checked to see if there were any fallen with whom I shared a surname.
In this small cemetery – I say small, but there were still 400 headstones – I came across one with my mother's family name, Norsworthy. We looked in the graveyard register, where it said Frank Norsworthy of Commercial Street, Coxside, Plymouth. This was where my grandfather's family lived. Frank was my great uncle.
The official register said he was 20 but the headstone read 18, suggesting that he must have lied about his age when he volunteered. He died on 13 November 1916, the day that this accursed hill was finally taken from the Germans, more than four months after all those Newfoundlanders died.
In Britain we are all related to someone who gave their lives in this horrendous war
One of 13 siblings, my grandfather would have been three-years-old when his brother died at The Somme. Two decades later the world's powers were doing it all again and my grandfather was a sergeant in the RAF. He lived through the Second World War and had a daughter and a grandson. But my mother's uncle died 28 years before she was born – exactly 100 years ago.
At the beginning I said this was an extraordinary discovery. It wasn't. It was fortuitous but it was also very ordinary: in Britain we are all related to someone who gave their lives in this horrendous war.
I'd like to thank the Commonwealth War Graves Commission for the work they do preserving these memories, and ask everyone to remember we must never take peace for granted. Europe is about a community bigger than just ours, we should not take it for granted: we should cherish it, we should be part of it and we should always keep on talking to resolve our differences.
Rest in peace, Great Uncle Frank. Until now I had no idea you gave the ultimate sacrifice at the bloodiest battle in the war that, sadly, didn't end wars.
---
Steve Busfield has written and edited for some of the world's biggest newspapers and web titles. This includes being the Guardian's sports editor for the launch of its US edition. Most recently he oversaw ESPN's global football coverage.
---
© Copyright IBTimes 2023. All rights reserved.