Bayern Munich president Uli Hoeness has confessed the Bundesliga leaders have attempted to sign Arsene Wenger, both before and after he took charge at Arsenal.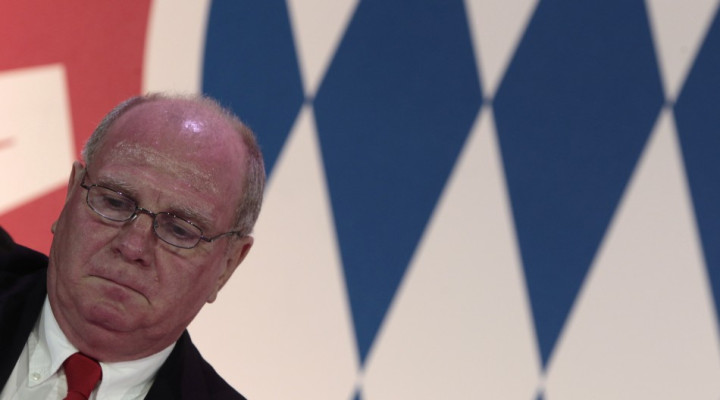 Wenger, who joined the Gunners in 1996, travels to the Allianz ArenA on Wednesday evening, to face the Bavarians in the second leg of the two clubs' Champions League knock-out tie. Munich have a 3-1 lead from the first leg at the Emirates.
"We did try to get him at Bayern Munich a few times. Even before he went to Japan, Franz Beckenbauer and I went to Nice and discussed and everything was clear... then he decided to go to Japan. We were very surprised. Over the years, whenever we were looking for a new coach, Wenger was always one we considered," Hoeness told The Sun.
Wenger is the most successful manager in the Gunners' history, with three Premier League crowns and four FA Cups to his name. The last of those pieces of silverware may have come in 2005 but despite the eight-year trophy drought, Hoeness made it clear he had tremendous respect for the 63-year-old manager.
"He's a very serious person, very strong and has a very good idea about the game. There have been a few moments where we have discussed his name over the years. He has always remained loyal to Arsenal which is fantastic behaviour," he explained.
Arsenal have had a particularly disastrous season this year and have been eliminated from both the FA Cup and the Capital One Cup by lower league opposition. They are 24 points behind league leaders Manchester United and will struggle to advance past Munich at the Allianz ArenA in the midweek match, meaning they are likely extend their trophy drought to nine years, at the least.
The pressure is squarely on Wenger to turn things around and the Frenchman will have, should he choose to use it, a £70m summer transfer fund. However, if he decides to leave the Emirates, and with his considerable legacy he will always remain an Arsenal hero, Ligue 1 leaders Paris St Germain (PSG) and nine-time European champions Real Madrid are believed to be interested. Bayern will not though. The Bavarians will be handled by ex-Barcelona boss Pep Guardiola from next season.