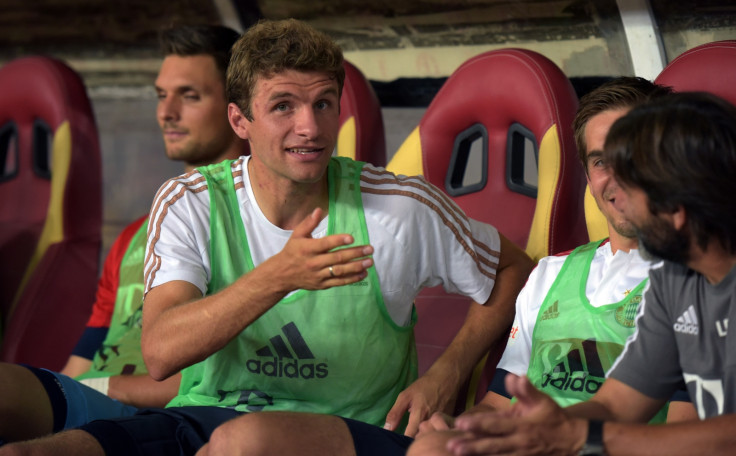 Bayern Munich insist Thomas Muller will not leave the club this summer despite the "stubborn" attempts of Manchester United manager Louis van Gaal to prise him away from the Allianz Arena.
After attempting to sign the player in the summer of 2014 in his first season in charge at Old Trafford, Van Gaal returned with an extraordinary offer of €100m (£70.1m, $111m) for Muller this summer, according to Bild.
Following those reports, Bayern insisted there was no chance of the club cashing in on the World Cup winner, having already insisted no other player would leave the club to join United following Bastian Schweinsteiger's move in July.
Despite Bayern's resistance, Van Gaal has not given up on signing the 25-year-old. Kicker now claims that with just under three weeks of the summer transfer window remaining, United's interest is as strong as ever.
But ahead of the start of the 2015-16 Bundesliga campaign, Bayern still refuse to entertain the idea of selling the forward. "Louis van Gaal is very stubborn," Bayern CEO Karl-Heinz Rummenigge was quoted as saying by the German publication on 13 August. "But there is no price for Thomas Muller."
Muller still maintains a close relationship with Van Gaal after the former Ajax and Barcelona manager brought him into the Bayern first team during his spell in charge between 2009 and 2011. But despite being substituted more often than any other Bayern player last season by manager Pep Guardiola (22 times in all), Muller has so far remained fiercely loyal to the Bavarian giants.
In a recent interview with Goal, he underlined the importance of Bayern retaining a strong core of German players following Schweinsteiger's move to the Premier League giants. Rummenigge further quashed United's hopes of luring the player away from the Bundesliga giants in July when he insisted Muller will remain at Bayern for the rest of his career.
"I have the feeling that Thomas is at Bayern for life and will never leave," he told Sport Bild, according to Goal.com. "When Thomas one day ends his playing career, we would like to integrate him into the club in another role. He is totally comfortable in Munich. I do not think that our fans have to worry."