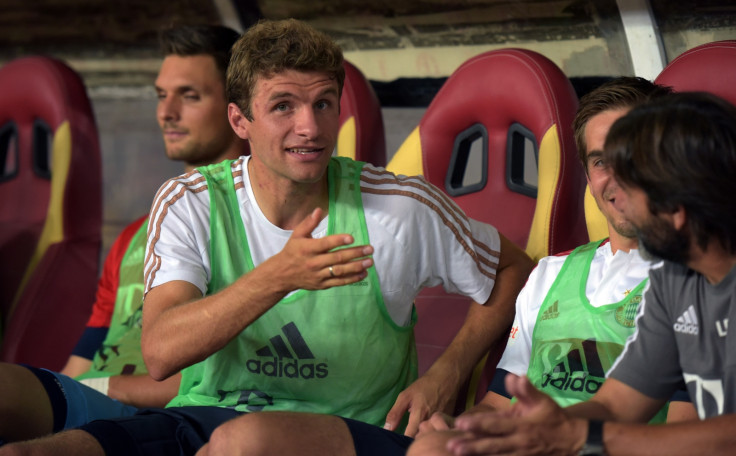 Manchester United have been advised their pursuit of Bayern Munich forward Thomas Muller is doomed to fail after chief executive Karl-Heinz Rummenigge said the German World Cup winner could spend the rest of his career with the Bundesliga champions.
Reports have linked Louis van Gaal's side with a £70m ($109m) move for the 25-year-old hitman, according to The Guardian, with the Premier League behemoths looking to bolster their attacking resources.
Rummenigge had previously indicated that United's attempts to sign Muller were futile, while the player himself has said Bayern must hold on to the German influence in their squad.
And the Bayern chief has reiterated the club's desire to retain Muller, claiming the former World Cup Golden Boot could remain with the Bavarian side for the remainder of his career.
"I have the feeling that Thomas is at Bayern for life and will never leave," he told Sport Bild, according to Goal.com. "When Thomas one day ends his playing career, we would like to integrate him into the club in another role. He is totally comfortable in Munich. I do not think that our fans have to worry."
Robin van Persie and Radamel Falcao's departure following the end of last season leaves United short of senior forwards ahead of the new campaign.
Captain Wayne Rooney will be entrusted with leading the attack, with support coming from Javier Hernandez – who spent last season on loan at Real Madrid – and 19-year-old James Wilson.
With Van Gaal having yet to confirm whether he will sign an additional striker, the Dutch coach may be forced to look to other areas of his squad to fill the void, with Belgium youngster Adnan Januzaj the latest to be linked with filling the role.
"I have given him a chance in this position and you have to look if he can do that or not," Van Gaal said, according to The Times. "But he has a lot of quality and against Barcelona he showed it for the first time.
"He was very good and was a threat as a striker in his 30 minutes. He always gives an option for midfielder and defenders, he scored a wonderful goal and that is always important.
"He always fought with two defenders, but he did well, although it was easier for him against the defence when [Barcelona centre-back] Gerard Pique was substituted."