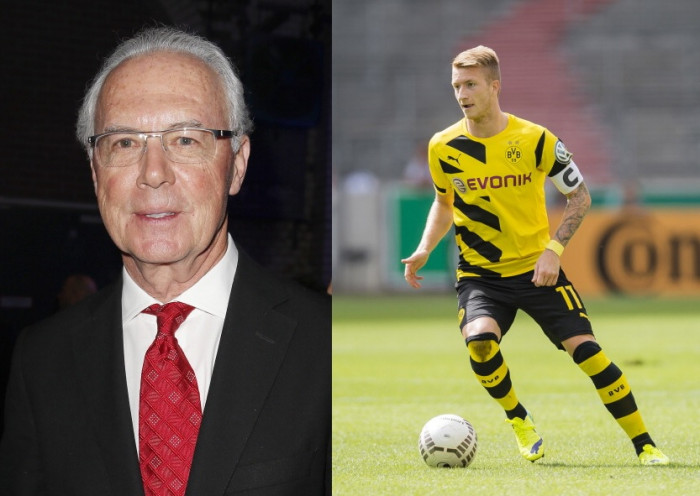 Marco Reus will join either Manchester United or Real Madrid if Bayern Munich fail to land the coveted midfielder next season, according to Bayern president Franz Beckenbauer.
Beckenbauer has stoked the flames between the two German clubs by saying Borussia Dortmund Reus might not be able to hold onto Reus and that he would be a good addition for Bayern.
However, the World Cup-winning captain and manager added that if Bayern were unable to lure the 25-year-old to the Allianz Arena, United and Madrid would be in pole position to sign him.
German newspaper Bild reports Beckenbauer saying: "I can imagine him at Bayern very well.
"If you can get a player of his class, you need to try it. If he doesn't go to Bayern in 2015, he will probably go to another big club like Real Madrid or Manchester United.
"Dortmund will probably not be able to hold on to him. I can understand why Dortmund don't like discussion about Reus."
The Kaiser's comments are likely to anger Dortmund, who issued a statement last month when another Bayern executive, Karl-Heniz Rummenigge revealed a clause in Reus's contract meant he would be available for as little as €25m (£19.8m).
"Borussia Dortmund has noted with some irritation that Karl-Heinz Rummenigge is currently discussing internal BVB matters in a three-day rhythm in the media," read the statement.
"We are sure that it is quite clear to anybody interested in football what intentions lie behind such remarks. Karl-Heinz Rummenigge is also fully aware that his behaviour is only going to further damage an already tense relationship between Borussia Dortmund and Bayern Munich."
Dortmund tried to head off interest in Reus, whose contract with the Bundesliga club still has three years to run, by reportedly giving him a 30% pay rise to €6m a year, and BVB boss Jurgen Klopp has laughed off claims Reus could be heading to either Liverpool or United.