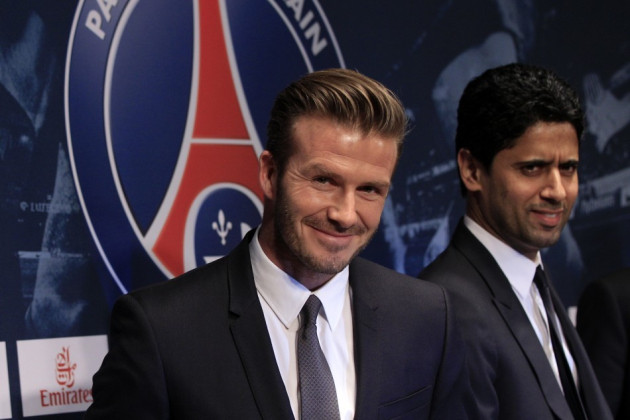 David Beckham could be set to earn more than £20 million from his new club's backers to rehabilitate the image of the forthcoming football World Cup in Qatar.
Former England captain Beckham, 37, this week signed a five-month deal worth £3m with French club Paris Saint Germain (PSG), which is owned by the investment arm of the wealthy gulf state, and said he would donate his earnings to a children's charity.
Impressed by his campaigning to help London win the Olympic bid and his work for England's failed attempt to host the 2018 World Cup, Qatar believe that Beckham has the global clout to generate huge publicity for the 2022 competition, which has been mired in allegations of corruption.
A lawyer hired as FIFA's chief ethics investigator said recently that he has unearthed evidence of corruption in process leading to both the 2018 World Cup being awarded to Russia and Qatar's successful 2022 bid, according to France Football magazine.
There are also doubts over the country's capacity to host the competition in June and July, when temperatures soar to 50 degrees centigrade.
Experts believe the owners will be interested in Beckham's profile in the USA, where he played for LA Galaxy for five years, boosting the popularity of football.
Sources speaking to The Sun said that Beckham's five-month deal with PSG was the first phase of a campaign that will see the former Manchester United and Real Madrid star compete as a player coach in a Qatar Stars League later this year and could earn Beckham £20m over two years.
Former French president Nicolas Sarkozy has - ridiculously - been accused this week of helping Qatar win the World Cup bid in exchange for the country buying PSG, the team Sarkozy supports.
PSG stars often appear in adverts for the Qatar Tourism Authority, which recently signed a £200m deal with the club.