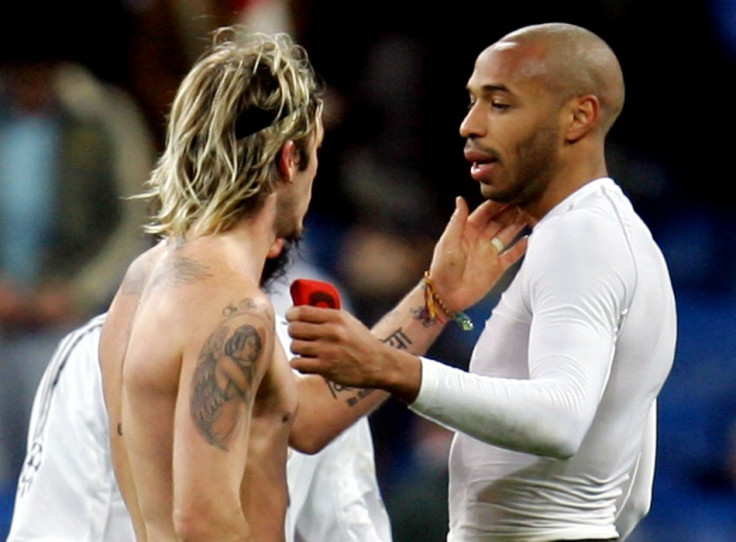 David Beckham and Thierry Henry are set to take part in this summer's Major League Soccer (MLS) All-Star game, which has been dubbed as the world's first-ever "smart soccer match", reports the Daily Mail.
The MLS has announced that the 2012 All-Star Game, to be held on 25 July in Philadelphia will feature the new "miCoach Professional Soccer Team Tracking System", considered as the next step in player performance analysis technology.
The technology enables coaches to monitor player statistics such as heart rate, player position, power output, speed, distance covered, intensity of play, acceleration and GPS heat mapping, by using tablet devices on the bench.
However, the team tracking system doesn't require players to wear any special equipment. Instead, a small chip will be planted inside the player's shirts that will allow managers to access player performance metrics during the game.
New York Red Bull's French striker Henry, along with Los Angeles Galaxy midfielder Beckham should feature in the All-Star team in Philadelphia - if the Englishman does not opt to participate in the 2012 London Olympics for the Great Britain football team.
Tested and developed in collaboration with MLS and its clubs, as well as multiple national teams and clubs in Europe, the system will then be tested throughout the remainder of the MLS season before going global.
MLS Commissioner Don Garber said it was an achievement that the tracking system was being used in the MLS game.
"It is an honour that they have chosen to debut their new game-changing and revolutionary technology at this year's AT&T MLS All-Star Game in Philadelphia," the newspaper quoted him as saying.
Meanwhile, a report on Foxsoccer.com claims that Chelsea will be the opponent for the 2012 MLS All-Star Game. The Blues' will be making their second appearance at the All-Star Game, having faced the American league's best in the 2006 installment of the event, which MLS won 1-0 at Toyota Park in Bridgeview.
It will be the seventh time in eight years that the opponent for the All-Star Game will be from the EPL, with Manchester United serving as the opposition for the last two years. The All-Star Game will be part of Chelsea's extensive summer tour of the United States.
The MLS team is a squad selected by voting among fans, media, players and team management.