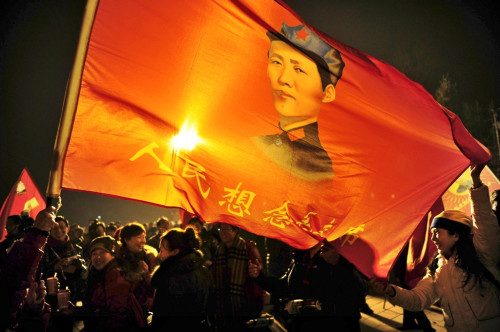 China's economic growth is expected to hover at 7.6% in 2013, according to a cabinet report, a notch above the government's target of 7.5% and slightly below last year's 7.7% growth rate.
The cabinet report also said that Beijing would further improve interest-rate flexibility and coordination on using various policies such as environmental, fiscal, land-use, monetary, and industrial policy, the official Xinhua news agency reported.
The government proposes to carefully tackle the issue of rising local government debt while ensuring that the nation's liquidity needs were met, the report added.
Xu Shaoshi, head of China's top economic planning body, told lawmakers that ambiguity remained in the global economic recovery, and that the international market had failed to produce strong demand.
Within China, higher labour and environmental costs for enterprises also posed challenges, said Xu, who heads the National Development and Reform Commission.
"We cannot deny a downward pressure on economic growth," Xinhua quoted Xu as saying.
The latest growth forecast was in line with market consensus that the world's second-largest economy would expand 7.6% to 7.7% in 2013.
However, the economic growth rate continued to hover near its weakest pace since the 1997-98 Asian financial crisis.
Earlier in the week, officials at top government think tanks told Reuters that China could peg its 2014 growth target at 7.5%.
Local Debt Rising
China's leaders want to guide the world's most populous nation away from debt-driven investments, in infrastructure and property, and towards a more sustainable path.
As such, Beijing is looking to tighten its fiscal disciplinary measures in order to tackle rising debt levels at local government agencies.
China's local government debt totaled about 10.7tn yuan ($1.76tn, £1.07tn, €1.29tn) at the end of 2010, according to available National Audit Office (NAO) data.
China's local governments borrowed heavily to fund construction and other investments as part of a stimulus package, rolled out in 2008, to shield the local economy from the global financial crisis.