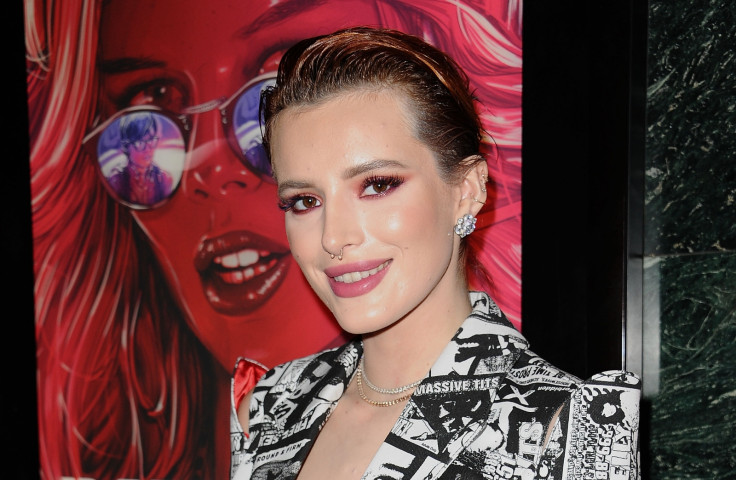 Bella Thorne has done it again. The Babysitter star has sent temperatures soaring by sharing an explicit photo of herself with her fans on social media.
In the latest photograph posted on Instagram, the 20-year-old is in her birthday suit. She kept the photo-and-video-sharing application's strict nudity guidelines in mind as she covered up her modesty by wrapping her arms around her breasts and crossing her slender legs to shield her neither regions while seated on a stool with array of outfits hanging on a rack in the background.
She tied her pink hair into a bun for the no clothes look. She accessorised her look with a large watch on her left wrist and numerous beads and bracelets on the other. She also wore some rings on her fingers.
"This was fun #fashionweek #2017highlights," Thorne wrote alongside the picture she shared.
Fans are going gaga over the photo, which as of writing this article has racked-up more than 578,000 likes and hundreds of comments.
"Good morning my baby I love you so beautiful I like this photo," a fan gushed, while another chipped in, "Bella girl how u so gorgeous."
Someone else said, "Wow. Very beautiful", while another admirer added, "You are a very beautiful women."
While some could not stop admiring the actress, others were not pleased with the nude display as a fan pointed out that Thorne does not need to strip to her birthday suit on social media platforms because she can easily make hearts flutter with her beauty. Another fan displeased with the picture asked Thorne, "Please put some clothes on."
Thorne recently set hearts racing by sharing her photo in a sexy Santa outfit on Twitter.
"Hi santa bb," she wrote alongside the snap she shared with her 6.9 million fans on the social media website during Christmas. The picture was liked more than 17,000 likes and retweeted 1,600.