Benetton: A History of Shocking Ad Campaigns [PICTURES]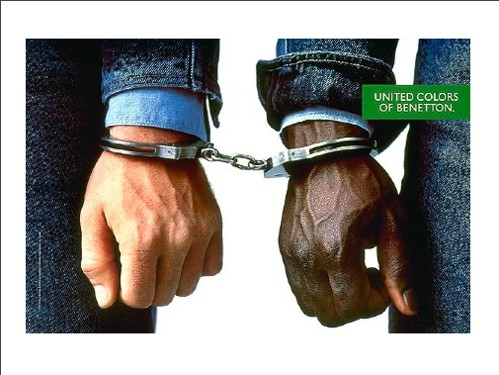 Since the 1980s Benetton has gained a reputation for shock-advertising that has whipped-up controversy and stimulated debate - and helped boost the brand recognition of the Italian fashion giant
In the 1980s, world-renowned photographer Olivero Toscani created for Benetton the first of his multiracial campaigns with the "United Colors of Benetton" slogan. Later on, the Italian brand moved into controversial topics such as AIDS, Gulf War casualties and so on, always with the aid of Toscani.
The photographer explained his philosophy: "La pub est une charogne qui nous sourit" ("Advertising is a smiling carrion"). He accused traditional advertising, in particular so-called "life-style-advertising", of being dull and unimaginative, creating and portraying an ideal world that does not exist.
Now the UNHATE campaign, featuring world leaders kissing Barack Obama, has hit the headlines showing the US President kissing China's Hu Jintao and Venezuelan leader Hugo Chavez on the lips.
President Obama was unimpessed. "The White House has a longstanding policy disapproving of the use of the president's name and likeness for commercial purposes," spokesman Eric Schultz said.
Tthe adverts have also triggered a protest from the Vatican.
A spokesman for the Pope Benedict XV, Father Federico Lombardi, said the Vatican has told its lawyers in Italy and around the world to "take the proper legal measures" to ban the use of another Benetton's photo montage showing the Pope embracing a Egypt's Ahmed el Tayyeb, imam of the Al-Azhar Mosque in Cairo and a leading voice in Sunni Islam.
The Italian clothing company had previously withdrawn the photo montage saying it was "sorry that the use of the image had so hurt the sensibilities of the faithful."
A spokesman for Egypt's al-Azhar Institute, whose grand imam was pictured kissing the pope, described the advertisement as "irresponsible and absurd."
Vatican to Sue Benetton Over Pope-Imam Kissing Ad Picture
Apart from the Pope, the campaign features U.S. President Barack Obama kissing China's Hu Jintao and Venezuelan President Hugo Chávez; French President Nicolas Sarkozy embracing German Chancellor Angela Merkel; Israeli Prime Minister Binyamin Netanyahu kissing Palestinian President Mahmoud Abbas; and North Korean dictator Kim Jong-II kissing Lee Myung-bak, the South Korean president.
© Copyright IBTimes 2023. All rights reserved.