Italian fashion giant Benetton has made another U-turn over its links to garment factories based at the collapsed Rana Plaza building in Bangladesh, by admitting that it "occasionally" subcontracted orders to one of them.
The company, which earlier denied any involvement in the Dhaka building and later recognised a "one-time order" that was completed and shipped, says the manufacturer "had been permanently removed from the list of potential direct or indirect suppliers".
"In fact, it had come to light that it no longer met the stringent standards that would have made it eligible to even potentially work for us," the company said on Twitter.
Benetton "strongly reiterates" that none of the Rana Plaza manufacturers is a supplier to any of the group's brands. "We have since established that one of our suppliers had occasionally subcontracted orders to one of these Dhaka-based manufacturers," Benetton said.
However, documents found in the Rana Plaza rubble and obtained by IBTimes UK indicate that the Italian retailer had a protracted relationship with New Wave Style Limited, one of the manufacturers based in the Dhaka building.
Two of the documents unearthed are labelled United Colors of Benetton and include job order details for 25,823 sleeveless shirts, to be shipped from Bangladesh to Benetton's Italian factory and headquarters in Castrette, near Treviso. Another includes technical comments, dated 30 July 2012, for the production of clothing for the Spring 2013 season.
Furthermore, an email correspondence in July-August 2012 from Benetton India to a shipping company, Shahi Exports Pvt. Ltd., contains package details and technical comments and adjustments received from Italy on the production of a bow.
Documents labelled New Wave include two cutting plans from New Wave dated September 2012 for normal and sleeveless shirts for a total of 45,346 pieces. Those garments were to be shipped in September/October 2012 to mixed destinations: Italy, the US, and Shenzhen in China. Finally, the paperwork recovered from the devastated building features a fabric report received on 31 August by New Wave and supplied by Shahia Export in India.
The illegally constructed, eight-storey building collapsed last Wednesday leaving at least 382 people killed.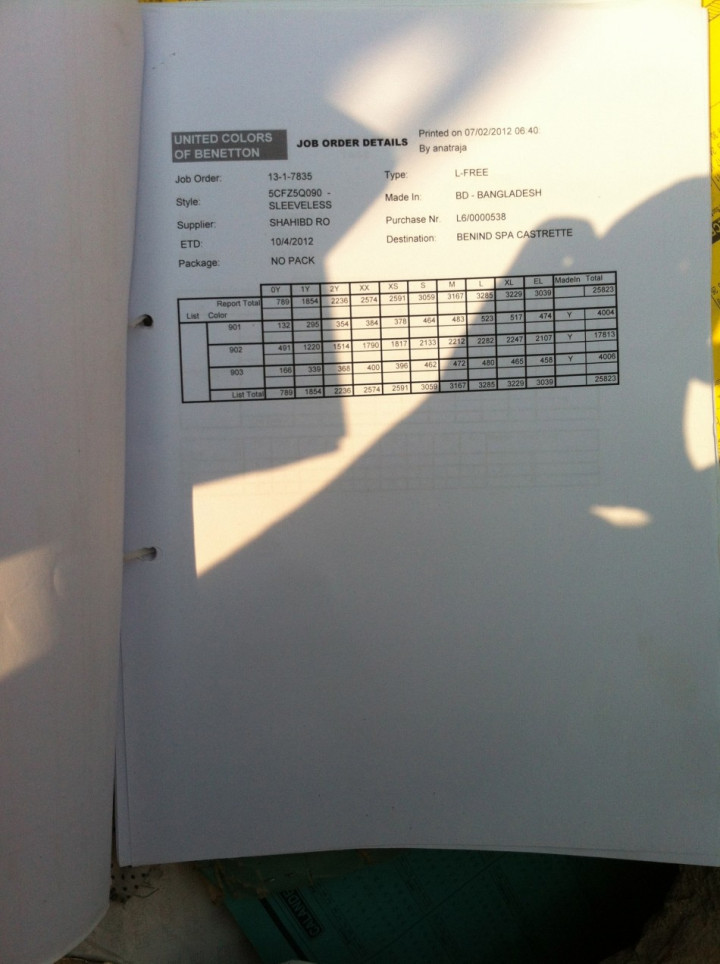 Here is the list of documents found in the Rana Plaza rubble and passed onto the International Labor Rights Forum, obtained by IBTimes UK:
Technical Comments dated 30 July 2012 for season Spring 2013. Supplier Shahi BD
Email correspondence dated 30 July 2012 and 6 August 2012 from Benetton India to Shahi containing package details, comments from Italy on a "bow" for production
Job order details labelled United Colors of Benetton printed on 7 February 2012 for a sleeveless shirt, made in Bangladesh and destination Castrette, Italy's Benetton base. Total 25,823 garments.
A cutting plan from New Wave Style Ltd., one of the manufacturers based at Rana Plaza which lists Benetton as a client, dated 29 September 2012 for a total of around 28,332 pieces
Another cutting plan from New Wave Style Ltd. dated 10 September 2012 for 7,247 pieces
Another document featuring the 28,332 pieces, the 7,247 pieces and the 9,767 pieces, making a total of 45,346 pieces.
A list of Shirts: total 27,611; Sleeveless shirts: 45,346
Fabric receive report dated 1 August 2012