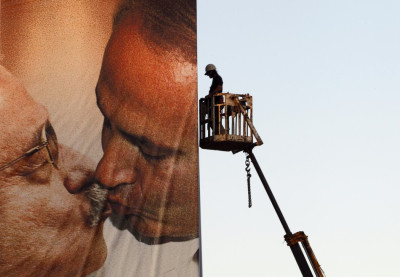 Italian clothing company Benetton strikes back with his controversial Unhate campaign, which drew harsh criticism last month from the Vatican for depicting the Pope kissing a leading Imam.
This time, Benetton has unfolded a massive billboard ad showing a photo montage of Israeli Prime Minister Benjamin Netanyahu smacking a kiss to Palestinian President Mahmoud Abbas in one of Israel's biggest cities, Tel Aviv.
Last month, the controversial fashion label was forced to withdraw a picture of Pope Benedict XVI kissing on the lips Egypt's Ahmed el Tayyeb, imam of the Al-Azhar Mosque in Cairo and leading voice in Sunni Islam after an angry statement from the Vatican which called the "manipulative" use of the pope's picture "totally unacceptable".
A statement by Vatican spokesman Father Federico Lombardi said the Vatican has told its lawyers in Italy and around the world to "take the proper legal measures" to ban the use of the photo, even in the media.
Sspokesman, Mahmud Azab, for Egypt's al-Azhar Institute, whose grand imam was pictured kissing the pope, described the advertisement as "irresponsible and absurd."
Benetton launched a new global advertising campaign called "UNHATE" that included a series of photo montages of political and religious leaders kissing.
It defended the campaign, saying its purpose "was solely to battle the culture of hate in all its forms."
Apart from the Pope and the strange couple Netanyahu- Abbas, the campaign features U.S. President Barack Obama kissing China's Hu Jintao and Venezuelan President Hugo Chávez; French President Nicolas Sarkozy embracing German Chancellor Angela Merkel; and North Korean dictator Kim Jong-II kissing Lee Myung-bak, the South Korean president.
A picture of Silvio Berlusconi kissing Merkel was pulled at the last minute after the Italian premier resigned last week.
The "Unhate" campaign is the cornerstone of a three-prolonged plan to relaunch Benetton's brand, product and retail network.
In the 1980s, world-renowned photographer Olivero Toscani created for Benetton the first of his multiracial campaigns with the "United Colors of Benetton" slogan. Later on, the Italian brand moved into controversial topics such as AIDS and Gulf War casualties, with the aid of Toscani.