Italian Government Faces Collapse as Berlusconi MPs Walk Out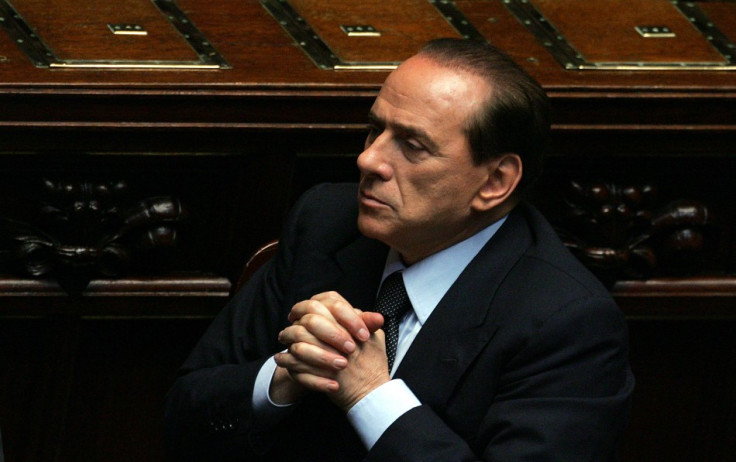 Five MPs from Silvio Berlusconi's People of Freedom (PDL) party have walked out of Italy's coalition government, throwing the country into political turmoil and raising the prospect of further economic instability.
The politicians walked out after failing to reach agreement with the centre-left Democratic Party over a sales tax hike, proposed to bring the country's budget deficit within European Union limits.
Prime Minister Enrico Letta, who has struggled to hold the fragile coalition together since the country's last general election in February, called the move "mad and irresponsible," and accused Berlusconi of using the tax debate to mask the real reasons for the move.
Berlusconi faces being banned from the senate after being convicted of tax evasion earlier this year. PDL politicians had earlier vowed to walk out if the senate committee meeting to decide Berlusconi's fate goes ahead.
"The decision taken by Prime Minister Enrico Letta to freeze government activities, and therefore setting off an increase in sales tax, is a serious violation of the pacts on which this government was formed," Berlusconi said in a statement on Saturday.
Tensions between the groups came to a head on Friday, when Letta challenged MPs to undertake a vote of confidence in his leadership as talks on potential tax rises stalled.
"In parliament, everyone will have to assume responsibility for their actions before the nation," he said.
Refusing to countenance the hike, the PDL members of the government resigned.
Both Letta and President Giorgio Napolitano are believed to be desperate to avoid a new round of elections, which would further delay the implementation of much needed reforms to Europe's third largest economy, which is mired in a decade-long recession. Reforms have already been held back by continuous political wrangling within the coalition.
"Measures we were working on now risk being set back," the labour minister, Enrico Giovannini, told Italian television. "On Monday our borrowing costs are going to rise by many points."
Letta is scheduled to meet Italian President Napolitano in Rome today.
Speaking on Saturday, Napolitano called for political continuity.
"We need a parliament that discusses and works, not that breaks up every now and then," he said.
"We do not need continuous election campaigns, we need continuity of the government's actions, decisions and its measures to resolve the problems of this country."
It is believed that Letta will attempt to form a new coalition, rather than call another general election.
Former satirist Beppe Grillo, whose Five Star MoVement swept into the senate on a rising wave of anger at a stagnant political culture and a corrupt political class, called for fresh elections: "We need to go to the polls to win and save Italy," he wrote on his blog. "It's the last train."
Letta will need the support of Five Star MPs or remaining PDL MPs to form a new government.
Not all PDL MPs supported the walkout.
"I think that a decision of such deep political importance should have required an in-depth discussion," said Fabrizio Cicchitto.
The senate committee is widely expected to vote to expel Berlusconi when it meets next week. In October, the three-time prime minister will have to decide whether he wants to be placed under house arrest, or perform community service as punishment for tax fraud.
© Copyright IBTimes 2023. All rights reserved.