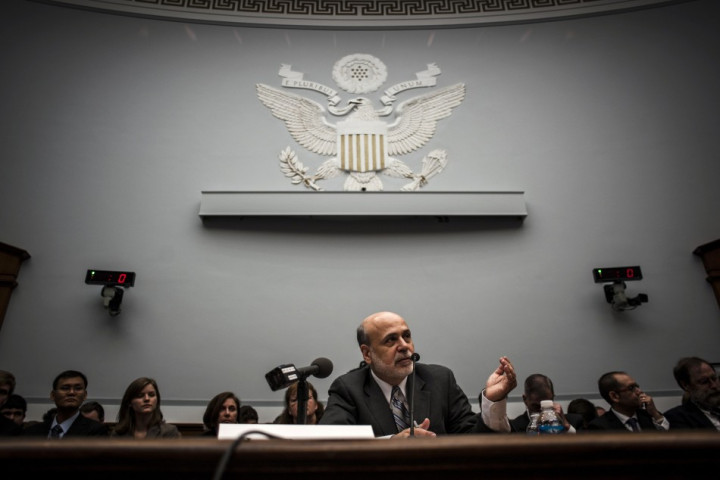 The US Federal Reserve still expects to start paring back on its $85bn bond-buying programme later this year but refuses to reveal when the planned reduction will take place.
On Wednesday, Fed Reserve Chairman Ben Bernanke told the US Congress that asset purchases "depend on economic and financial developments, but they are by no means on a preset course."
The Fed could "increase the pace of purchases for a time" if the US labour market outlook weakened or if inflation did not appear to be moving toward the central bank's 2% target, he added.
Last month, speaking at a press conference, Bernanke said the central bank could begin pruning its asset buys later this year if the US economy continues to improve, as officials expect it to, and could end its purchases by mid-2014.
Bernanke repeated that officials were in no hurry to hike rates either, once the unemployment rate threshold of 6.5% is reached, provided inflation remained in check.
The US jobless rate was at 7.6% in June.
Bernanke confirmed that the Fed would closely monitor any drop in unemployment numbers to see whether it was being driven by increased hiring or by a decline in the number of job seekers. If this is the case, the Fed would be more patient before raising interest rates as any hike would be gradual.
Markets Move on Bernanke's Comments
Market participants will be tracking the next round of Bernanke's testimony to the Senate Banking Committee due later in the day.
Traders in futures markets now expect rates to rise in December 2014.
The Fed said in June that 14 of its 19 policymakers did not believe it would be fitting to raise rates until sometime in 2015. Several economists expect the central bank to start trimming its bond purchases at its meeting in September.
"We intend to be very responsive to incoming data, both in terms of our asset purchases - but it's also important to understand that our overall policy, including our rate policy, is going to remain highly accommodative," Bernanke told the House of Representatives Financial Services Committee
His remarks helped Wall Street log modest gains on Wednesday.
The Dow finished 18.67 points higher at 15,470.52. The S&P 500 ended 4.65 points higher at 1,680.91, while the Nasdaq closed 11.50 points higher at 3,610.
"There is something in these comments for everybody," said Omer Esiner, chief market analyst at Commonwealth Foreign Exchange in Washington.
"Bernanke has done a good job of leaving himself plenty of manoeuvre room in terms of policy."
Economic data shows that the world's leading economy is improving and several economists believe it is ready for a cutback in monetary stimulus. However, critics say that this could lead to a detrimental knock-on effect for emerging markets.
A cutback in QE would raise bond yields in the US, which in turn would raise eurozone rates and suck out money from emerging markets. A sudden withdrawal of foreign funds from emerging markets could also be catastrophic, which has happened before, during the Asian and Russian financial crisis of 1997 and 1998 respectively.