We look at the top ten laptops now available from Apple, Lenovo, Asus, Acer, HP, Dell and Samsung.
Tablets might be the must-have mobile computing device of the year, yet laptops are still in demand as a key computing tool for the home and office. If you're looking at investing in a new one, here are 10 laptops we feel merit a closer look:
Apple MacBook Air (2013)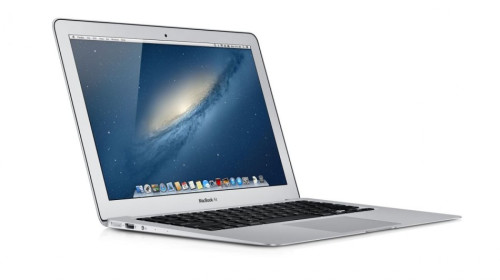 Apple's slim MacBook Air comes in 11in and 13inversion offering either 128GB or 256GB of storage. Now running on the latest Mac OS X Mavericks operating system and featuring Intel's fourth generation Haswell dual-core processors, along with Intel's integrated graphics, the Macbook Air offers a pretty solid performance, and with a battery life of over 12 hours it is still a class leader.
The MacBook Air is available from £849.
Dell XPS 13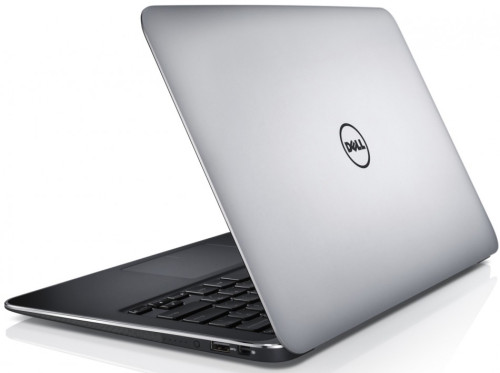 Thin and light, with a body made from aluminium and carbon fibre, this laptop comes with a 13.3in screen offering full HD 1080p resolution. Dell will also let you pick which Intel Haswell processor you'd like inside it - either a Core i3, i5 or i7 and Linux lovers can choose to have Ubuntu for the operating system instead of Windows.
The Dell XPS 13 is available from £899.
Apple Macbook Pro with Retina Display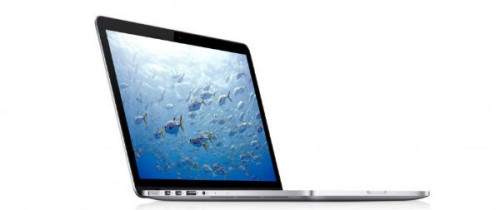 The Apple Macbook Pro is seen as the pinnacle of laptop computing. While it may not be as thin and light as the MacBook Air, considering the power available to users and the Retina display, it is still remarkably thin and light. Now available with up to a quad-core i7 chip, 16GB of RAM and 512MB of fast flash memory, the MacBook Pro is a real dekstop replacement - though it's not that cheap.
The Macbook Pro with Retina Display is available from £1,099.
Asus Zenbook UX301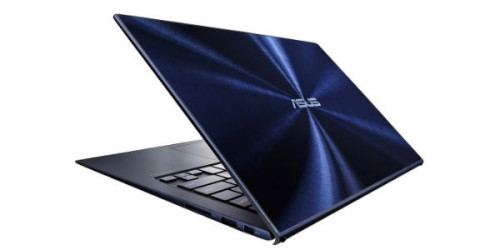 The Asus Zenbook UX301LA is the only Windows 8 Ultrabook also comes with an Intel Core i7 processor, but it can't match the Apple laptop in terms of graphics as it only has Intel's HD Graphics 4400 available. It does however boast a touchscreen giving you much more immediate control of the Windows 8 interface. This laptop is a very solid yet elegantly sleek product, featuring a 13.3in screen and toughened glass on the lid to prevent scratches.
The Asus Zenbook UX301 is available from £1,499.95.
Asus Transformer Book T100T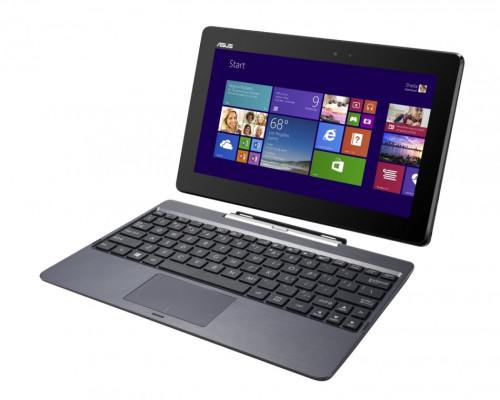 If you want to have your cake and eat it too, the Asus Transformer Book T100T would be a good investment as it doubles as both laptop and tablet. Sure, you could get the Surface 2, but it runs the rather confusing Windows RT as opposed to Windows 8. The 10.1in Transformer Book T100T comes with one of Intel's power-efficient Atom processors with 2GB of RAM, 64GB of storage and Microsoft Office 2013 Home & Student included.
The Asus Transformer Book T100T is available from £339.99.
Lenovo ThinkPad X1 Carbon Touch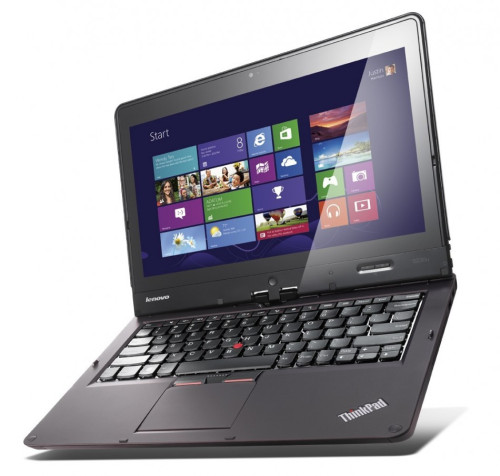 Lenovo's ThinkPad X1 Carbon Touch is a 14in touchscreen Ultrabook offering the computing power of a laptop in a thinner, lighter design. The laptop features up to a 2GHz dual-core Intel Core i7 processor, 8GB of RAM and a 180GB hard drive, blending together the durable build ThinkPad is renowned for, with Lenovo's sleek styling and fast performance. And did we mention that you can bend the screen 180 degrees so that it's completely flat?
The Lenovo ThinkPad X1 Carbon Touch is available from £1,605.98.
Samsung Series 9 (NP900X3D)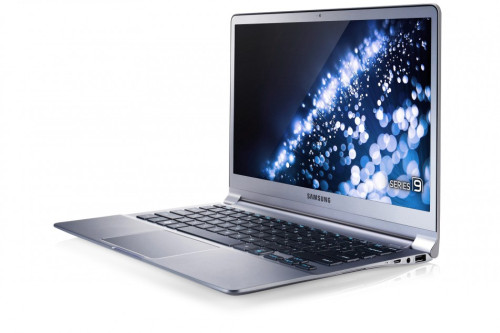 The Samsung Series 9 is one of the lightest Ultrabooks on the market, but despite this how small it is, it manages to fit in quite a few ports, including USB, micro HDMI and a multi-format card reader. Powered by an Intel Core i5 processer with integrated Intel's HD Graphics 3000 and featuring a 13.3in screen that displays colours beautifully, this Windows 8 laptop is a good investment, particularly as it is cheaper than its predecessors.
The Samsung Series 9 is available from £899.
Acer Aspire S7 (S7-392)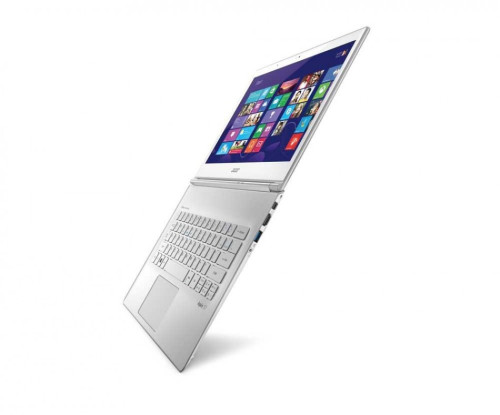 Acer has updated its successful flagship Ultrabook the Aspire S7, improving its battery life and the fan cooling system to make an even better product. A very posh laptop with a lid made from strengthened glass, this laptop is not only extremely light, but is also able to take on the Macbook Pro's Retina display with a 2560 x 1440 pixel resolution - as well as being touch enabled. The laptop also has an adjustable hinge to make the whole device entirely flat.
The Acer Aspire S7 is available from £1,199
HP Spectre 13 (3000ea)
The HP Spectre 13 is another great two-in-one Ultrabook that can either be a laptop or a Windows 8 tablet. Featuring an aluminium case, this Ultrabook comes with a 13.3in screen with Radiance LED technology and 1920 x 1080 pixel resolution. The laptop is powered by an Intel Core i5 processor with 8GB of RAM and features Beats Audio speakers. The only downside is that this laptop is the heaviest of all the Ultrabooks listed here at 3.23kg.
The HP Spectre 13 is available from £1,099.
Lenovo IdeaPad Yoga 2 Pro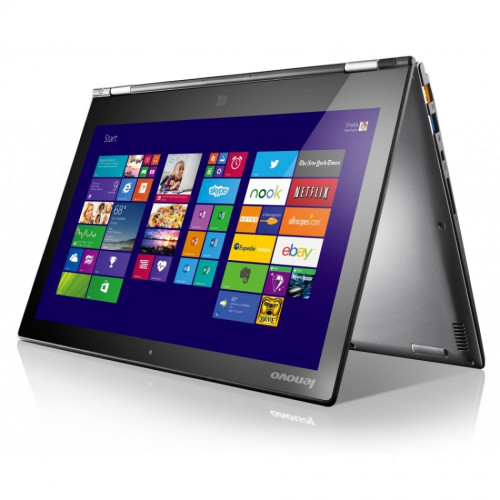 Lenovo takes the Ultrabook-tablet hybrid model to another level with its Lenovo IdeaPad Yoga 2 Pro, providing an adjustable hinge which allows the screen to fold all the way backwards so that the keyboard becomes a stand supporting the screen. The 13.3in display is stunning with a 3200 x 1800 pixel resolution that beats the Macbook Pro's Retina display, while the Ultrabook runs on an Intel Core i5 processer with 4GB of RAM.
The Lenovo IdeaPad Yoga 2 Pro is available from £999.