Mathew Knowles has sparked a race row for claiming that his daughter Beyoncé was successful because of her "light skin."
Social media users were angered after Knowles, 66, claimed during a frank interview that black singers were more likely to be played on the radio and enjoy success if they possessed a pale complexion.
He told Ebony magazine: "When it comes to black females, who are the people who get their music played on pop radio? Mariah Carey, Rihanna, the female rapper Nicki Minaj, my kids, and what do they all have in common?"
When the interviewer asked if it was because they had lighter skin, Knowles responded: "Do you think that's an accident?"
One tweeter wrote: "Mathew wasnt accurate. Pop radio rarely play Beyoncé. Bey' light skin only played a small part in her popularity &success. Theres no mistaking Bey'the real deal.ALL of her talent sacrifices hard work perseverance dedication discipline intelligence EXECUTION sold her millions."
Another user said: "Lighter skin Beyoncé has an advantage over other black female artists of a darker skin complexion. That's facts. But light skin Beyoncé dark skin Beyoncé she'd still be the BEYONCÉ. Lets not act like the Aretha who is commercial mainstream very popular successful doesnt exist."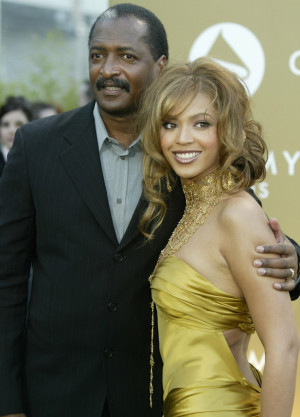 Another added: "In antique Asia the high class stayed light skin by staying inside and making the peasants labor. The darker your skin was the poorer you were assumed to be because of this. To this day they bleach their skin lighter just like Beyonce does. Isn't that cultural appropriation?"
Knowles has had a rocky relationship with Beyoncé, 36, and her younger sister Solange, 31, over the years. He was absent for part of their childhood and briefly left their mother when Beyoncé was just two.
He quit his job to manage Beyoncé's first band, Girls Tyme, which went on to become Destiny's Child. Both daughters shunned him as a manager in 2011 and that same year, Beyoncé ordered an audit of her finances and discovered that her father had been stealing from her.
The record label owner and talent manager also spoke about his upbringing and admitted he was guilty of "colourism" – same-race prejudice based on a person's skin tone – because he was conditioned to think that way as a child.
It also came to light in the same interview that he was first attracted to Beyoncé's mother Tina because she believed she was white.
While discussing his new memoir, Racism: From the Eyes of a Child in the same interview, he stated: "I used to date mainly white women or very high-complexion black women that looked white.
"I actually thought when I met Tina, my former wife, that she was white. Later I found out that she wasn't, and she was actually very much in-tune with her blackness."
The debate comes as the US celebrates Black History Month which celebrated the important people and events in the history of the African diaspora which takes place annually in the United States, Canada during the month of February.
Black celebrities including actor and director Morgan Freeman and actress Stacey Dash have previously criticised Black History Month, with Freeman claiming: "I don't want a Black history month. Black history is American history."