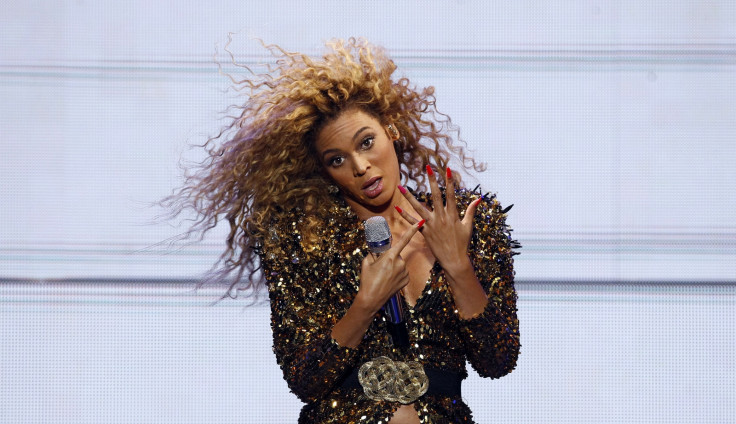 Beyonce and Rihanna can breathe a sigh of relief as the real reason for empty seats at their recent Wembley Stadium shows has been uncovered. Fans at the pop stars' respective Formation and Anti tour shows were surprised to see vacant areas at the sold-out concerts but it appears the tours have fallen victim to a scam.
Rihanna, 28, brought her 75-date world tour to the iconic London venue on 24 June 2016 while Beyonce, 34, headlined two nights on 2 and 3 July. Although both shows were advertised as being completely sold-out, concert-goers took photos of the empty seats and posted them on social media with captions including: "The Rihanna concert looked so empty. Embarrassingly empty," while another suggested the singer should have performed at the smaller Wembley Arena nearby.
However, The Mirror claims that ticket touts had purchased large bulks of the tickets to sell on the secondary marketplace meaning legit ticket buyers were led to believe the shows were sold-out at the 90,000 capacity stadium.
Adam Tudhope, manager of group Mumford & Sons, addressed the issue telling the publication: "We work hard to make the face value of the ticket as accessible to as many of the fans as possible. So there's nothing worse for the band playing a 'sold-out' show than looking out at empty seats because touts bought the tickets and tried to sell them on secondary sites at massively inflated prices."
Ticket touts and the secondary marketplace are becoming increasingly problematic for the touring industry. Fans are left feeling disheartened when tickets sell-out quickly on vendors such as Ticketmaster only to then find them selling up more than double the price on secondary sites like Viagogo and Seatwave.
Defending these alternative websites, chief commercial officer at live event ticket marketplace ScoreBig David Marcus, previously told IBTimes UK: "[The secondary market] is generally safe. It is in the interests of the resale sites to deliver valid tickets to their buyers and do their best to ensure that buyers have a great experience from purchase until they walk through the gate of the venue.
"Occasionally [single digit percentage], unscrupulous sellers list tickets they have already sold, or technology/communication delays result in 'double sales' of the same ticket. But this is increasingly rare, especially as the secondary ticket market becomes more and more mainstream."
Although some may have fallen victim to ticket tout scams, many concert-goers who had attended Beyonce's Wembley shows argued the empty seats were filled once the singer arrived on-stage. One tweeted in regards to the media: "Taking pictures half an hour before she comes on for a show she came on half an hour early for to make your story?" while another said: "And yet no actual pictures or videos of an empty seat while Beyoncé was on stage!"
Beyonce's Formation world tour continues with a show in Glasgow, Scotland on 7 July, the same night Rihanna performs her next Anti world tour show in Copenhagen, Denmark.