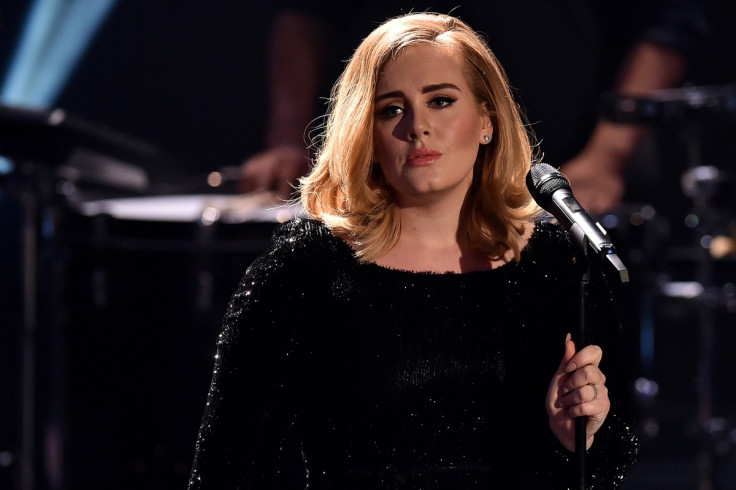 Adele, Coldplay and Elton John are among the well-known musicians to have spoken out against secondary ticket-selling websites but they might be fighting a lost cause as the market continues to boom. It can be incredibly disappointing for a fan who wakes up early in an effort to buy tour tickets for their favourite artiste, only for the batch to sell-out in minutes.
With supplies completely gone from official outlets like TicketMaster, consumers are then encouraged to look to other websites like Viagogo, SeatWave and ScoreBig which sell second-hand tickets or discounted tickets from primary sellers. This could be the perfect solution for many, but customers have to be prepared to fork out huge prices, which are likely to be a lot higher than they were originally.
When tickets for Radiohead's surprise tour went on sale in March 2016, they sold out in less than an hour but many quickly resurfaced on Viagogo. They were not cheap either with prices starting from£900 ($1,270) and soaring to nearly £4,000. Of course, that sounds like an obscene amount to charge for tickets but the entertainer is blameless – it certainly was not Radiohead setting those prices. Tickets on sites like Viagogo are advertised by regular consumers who have purchased them from official websites and subsequently sell them on. The power to dictate prices is completely in their hands.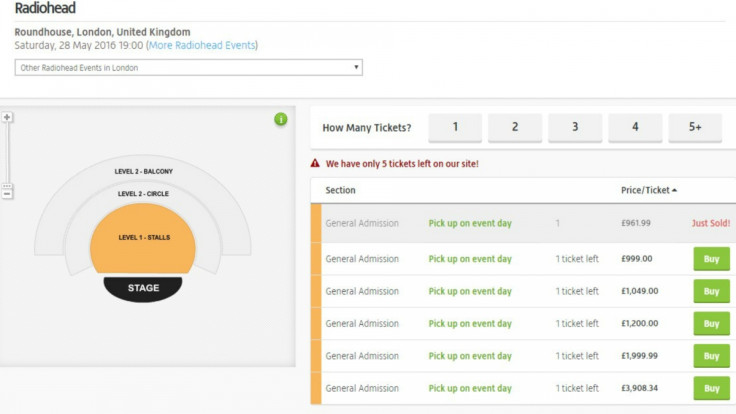 The issue is a tricky one – it seems morally wrong to charge such extortionate prices for concert tickets but then, if you place yourself in the seller's shoes, wouldn't you try to get as much financial return as you possibly could? It is a thin line and one that has encouraged artistes themselves to challenge the secondary ticket-selling market. After ticket prices for his Wonderful Crazy Night tour more than doubled on unofficial sites, Elton John said: "I'd rather have empty seats. I think it's extortionate and I think it's disgraceful. The fact they're willing to pay that [amount] is fantastic. But I'd rather they'd save their money and not come."
While John's humble sentiment is undoubtedly appreciated, the secondary market is actually now a booming business, growing at an incredibly fast rate. IBTimes UK spoke to David Marcus, chief commercial officer at live event ticket marketplace, ScoreBig, who says that the resale of tickets in the US is governed by state laws but is generally not prohibited.
Certainly, many over the years have been stung by fake sellers failing to deliver the tickets by post or in person, among other scams. However, Marcus insists the secondary marketplace is "generally safe". He explains: "It is in the interests of the resale sites to deliver valid tickets to their buyers and do their best to ensure that buyers have a great experience from purchase until they walk through the gate of the venue.
"Occasionally [single digit percentage], unscrupulous sellers list tickets they have already sold, or technology/communication delays result in 'double sales' of the same ticket. But this is increasingly rare, especially as the secondary ticket market becomes more and more mainstream."
When fake touts began re-selling tickets for Adele's anticipated world tour with sky-high prices, the British singer's representatives made a point of successfully identifying 18,000 suspicious accounts. Thanks to their quick action, industry experts estimated the Hello singer's team prevented 36,000 tickets from being sold on second-hand websites.
It is admirable that Adele's team cared enough to actively stamp out the influence of the touts but should it be the artiste's responsibility to monitor the secondary marketplace to protect their fans? Marcus says yes, explaining: "The artistes should take responsibility to understand how their tickets are distributed, how touring decisions will affect fans' ticket buying experiences, and how fans will experience ticket prices.
"The tools are available to the artistes to deal with these issues head on, they can decide to charge prices closer to market, or they can decide to lock prices down using tools like paperless ticketing and invitation ticketing, which gives artistes an opportunity to weed known brokers out of the ticket buying process and helps to ensure more fans get tickets and resale is limited."
Marcus has a point as most regular ticket-buyers would no doubt appreciate not having to pay a booking or postage fee. In fact, this is already in place with Ticketmaster offering paperless tickets for some events.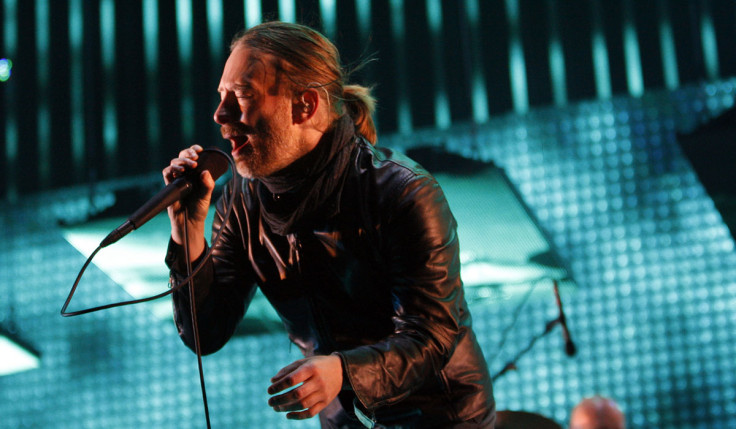 With the secondary marketplace increasingly becoming a hot topic of debate, it does raise the question of how it is affecting the music industry. Marcus explains that artistes may be encouraged to raise their tour ticket prices once they see how much punters are willing to pay. On the other hand, the high prices could cause fan alienation as some may become frustrated with the soaring costs and struggle to get their hands on tickets in the first place.
Interestingly, Viagogo state that while sellers can often list high prices, the more expensive tickets tend to sell less as customers make an effort to research the cheapest deals. A spokesperson told IBTimes UK: "While a seller can list a ticket at any price he likes, it doesn't mean the ticket will actually sell at that price. In reality, very expensive tickets rarely sell on Viagogo because they can be compared easily to others at lower prices. Around half of the tickets on Viagogo sell for face value or less."
Asserting the safety of their service, the rep added: "We have a whole range of measures in place to prevent fraudulent tickets being sold on our platform and thankfully instances of this are increasingly rare. If it should happen, customers are covered by our guarantee, which means that they will be given replacement tickets or, in the worst-case scenario, they will be refunded."
Clearly, the secondary marketplace is not going anywhere. Prices can be extortionate but as long as there are fans willing to pay the prices, resellers will keep on pushing their supply. Supporting this notion, Marcus states: "The answer isn't to try to hold back a market that is taking advantage of mismatched prices relative to demand. The answer is to make the primary market more efficient and effective at getting tickets into the hands of the fans who want to see the show, at the prices the artistes want them to pay."