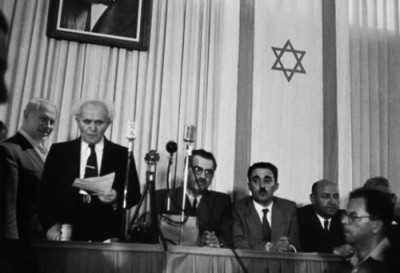 When pictures of the release of Gilad Shalit, an Israeli soldier held captive for five years by Hamas, were beamed around the world, many featured a beaming Benjamin Netanyahu, the Israeli Prime Minister, unleashing a new phenomenon called "Bibi bombing" aimed at pocking fun at the politician's love of the limelight.
Benjamin Netanyahu's efforts to pose aside Shalit were mocked after it emerged that the only photographs that captured the arrival of the soldier to the air force base in Tel Aviv were with him by the freed soldier's side.
While the pictures feature and focus on Shalit, Netanyahu can also be seen in most of them, often with a large time grin, inspired a wave of cynicism and photoshopped images that flooded Facebook.
Pocking fun at the awkwardness of the Prime Minister, the new internet craze sees people posting pictures with "Bibi's face" pasted into photographs of key moments in history or in funny situations.
Some have Bibi watching approvingly as Jack and Rose kiss in Titanic, another "Bibi bomb" shows him in the series Friends, talking to Marlon Brando in The Godfather or on the cover of a Queen album.
Other "Bibi-bomb" include the Maccabi Tel Aviv's 1977 European Cup win, the signing of Israel's Declaration of Independence in 1948, the signing of the peace treaty with Egypt in 1979, and even the royal wedding of Prince William and Kate Middleton.
An entire blog has now been created and the Prime Minister has used Facebook to post his own with his own "Bibi bomb," in which he is watching himself speak at the UN, with a bubble saying: "You really made me laugh!"