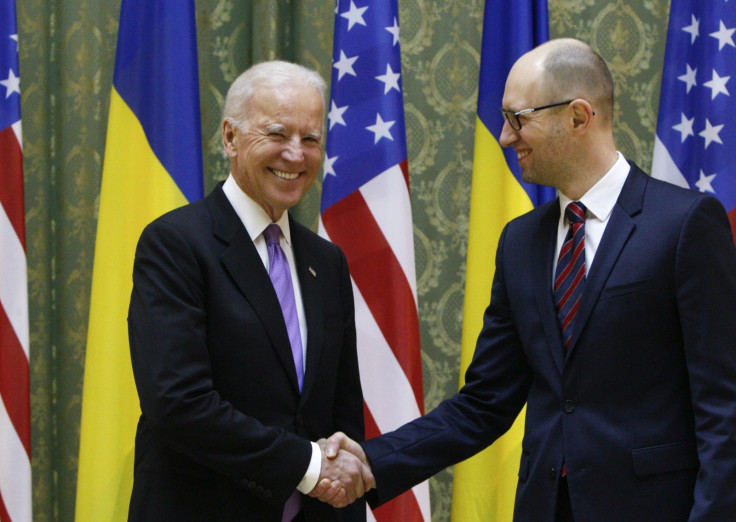 US Vice President Joe Biden has pledged to assist Ukraine's central government with financial aid, as Kiev seeks a massive injection of dollars to stave off economic catastrophe.
Biden told Ukraine's President Petro Poroshenko that the US was committed to working with international partners "to ensure that Ukraine will have the macroeconomic support it needs", according to a statement from the White House.
Ukraine wants $10bn in assistance as it tries to stave off a default, amid the worst economic crisis in the country for five years.
The ongoing conflict in eastern Ukraine, now in its ninth month, has dragged the economy into a deep recession, while the hryvnia currency has lost around half of its value against the dollar this year.
The former-Soviet republic was has already received a $17bn bailout from the International Monetary Fund this year but the country's Prime Minister Arseniy Yatsenyuk said it was not enough.
Asked when Ukraine needed new financial assistance he told reporters: "Let me put it in a nutshell – yesterday."
Ukraine's calls for extra assistance have so far been met by potential donors and lenders with calls for an economic plan. While the EU has provided support to Kiev, it is dependent on the government undertaking a series of reforms.
"We will do everything that was promised ... but to overcome this period Ukraine needs to get some kind of cushion and this cushion is a new package of financial aid," Yatsenyuk said in Brussels.
"It is difficult for us to fight with a nuclear state which is armed to the teeth," he added, referring to Russia.