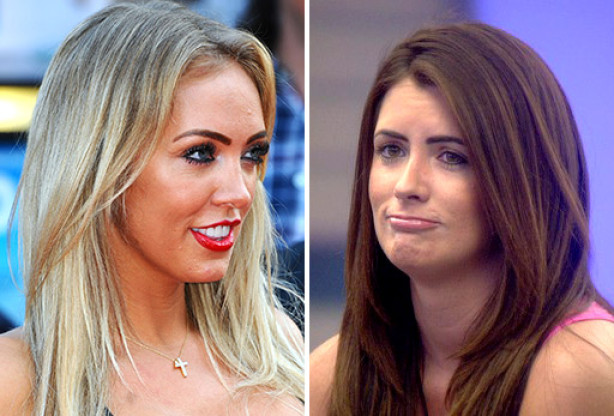 Considering the amount of mudslinging that has gone on, Big Brother producers may soon regret putting former housemate Aisleyne Horgan-Wallace and her arch nemesis foe Helen Wood under the same roof.
Fans have been warned to expect a dramatic showdown between the feisty blonde from Croydon and the brazen brunette from Bolton.
When it was announced that Horgan-Wallace would be re-entering the house to shake things up for Time Warp, Wood did not mince her words and went as far as to threaten her.
"Aisleyne Horgan. I hate her. I hate her face, I'd spit in her face," she declared.
And it seems like the feeling is mutual.
"I think she's absolutely diabolical," Horgan-Wallace told Digital Spy. "As a housemate, you know exactly what it does to your emotions to be in there, you know exactly the roller coaster that you're on, and to go in there at such a late stage and bring so much negativity and vileness is horrific for me."
In 2014, former prostitute Wood, who made headlines in 2010 when it was revealed that she and friend Jenny Thompson reportedly had a threesome with Manchester United footballer Wayne Rooney, was crowned the winner of Big Brother.
After being widely dubbed the most volatile contestant the show has ever seen, it wasn't surprising that she left the house to a barrage of boos.
Now Horgan-Wallace, 36, is eager to finally give "vile" Wood, 28, a taste of her own medicine.
"I think that I would lose my patience, I would lose my cool if she picked on someone else," the 2006 finalist said.
"If she said something to me, I'm a little bit like, 'Water off a duck's back, whatever, I've been through a lot worse, you can't really touch me on that level'. But if I see her picking on someone else, I just couldn't bear it. I just could not stand it."
Twitter fued
The pair's long-standing feud reached boiling point in January when Horgan-Wallace let rip at Wood in an expletive-filled rant.
"@Helen_Wood86 oi u little tramp what's ur problem with me? U jel coz 10 years later I'm still here and have never had to sell my fanny? [sic]"
Firing back, Wood replied: "@Aisleyne1 Come again? Jeez someone's not had there Weetabix this morning, don't start getting all Gangsta on my ass "lil gal" fffrruuurt."
If Floyd Mayweather versus Manny Pacquiao was the fight of the century, viewers will be expecting a real clash of the titans when the former contestants comes face-to-face on 19 June.
"Producers know this will be dynamite. Aisleyne and Helen really hate each other. So seeing them go head-to-head will be amazing TV." A source told Daily Star. "Putting Aisleyne in is bound to keep viewers hooked."