An animal rights activist sporting only a white bikini, bunny ears and tail has been spotted protesting against fur in Pyeongchang, South Korea, which is hosting the Winter Olympics 2018.
Ashley Fruno discussed the People for the Ethical Treatment of Animals' (Peta) stance on fur in front of the Olympic rings at the Alpensia Resort.
According to Reuters, Fruno spoke with reporters for 15 minutes on Tuesday (6 February) in temperature as cold as minus 10 degrees. "It's certainly is cold out here, but it's nothing compared to what the animal go through on fur farms," she argued.
"This is animal cruelty in 2018, we don't need this," said Fruno as she held a sign that read: "Champions don't wear fur."
"Unfortunately fur is being worn by many Koreans," she said. "We want to make sure that everyone, whether they're here as a local, as a tourist, as the Olympic committee, knows that they shouldn't wear any fur."
Fruno also pointed out that China, who will host the 2022 Winter Games is one of the world's largest fur exporters.
"With so many stylish and toasty alternatives to fur available, there's no excuse for harming a hair on a bunny's back."
She also took selfies with curious passers-by and Olympic volunteers, while briefly discussing the country's controversial dog meat trade. According to Fruno, Peta has no plan to campaign on this issue during the Pyeongchang Games.
"We are against the dog meat trade but today we are talking about fur," she said. "Animal cruelty is animal cruelty. Whether it's dogs, or rabbits, minks, raccoons."
South Korea closed its biggest dog meat market, Seongman Market, in February 2017 in the run-up to the Olympic Games in order to avoid controversy. However, other markets remained in place.
Stunts, Peta and women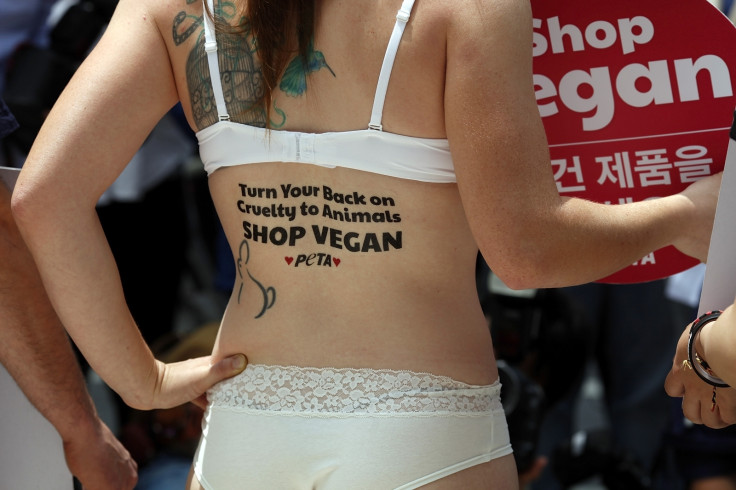 Peta has made a name for itself with its unique style of publicity stunts where activists put people on the spot in order to get as big a reaction and press coverage as possible.
Since the organisation's creation in 1980, its activists have disrupted a number of fashion shows in order to protest the use of animal fur by the fashion industry or pop stars.
In September 2017, several animal rights activists gatecrashed the London Fashion Week brandishing signs that read:"Leather is dead." Attendees had however been advised not to wear fur in order to avoid the ire of Peta activists at the event.
"There's nothing fashionable about fur torn from the bodies of struggling animals and then laden with chemicals that are dangerous to people who wear it. Peta is urging kind people to choose fur-free clothing for the sake of their own health and animal welfare," said Peta associate director Elisa Allen at the time.
Using scantily clad women as part of their stunts has also become a Peta trademark. The organisation has attracted criticism from women rights activists for its use of naked women as props.
During the 2017 Wimbledon tennis tournament, the pressure group posted two women wearing nothing but teeny tiny red and blue bikinis on different sides of the queue. They served dairy-free drinks to protest against the unethical production of cow's milk. The move was criticised on social media platforms, with Twitter users asking the organisation to "respect women".