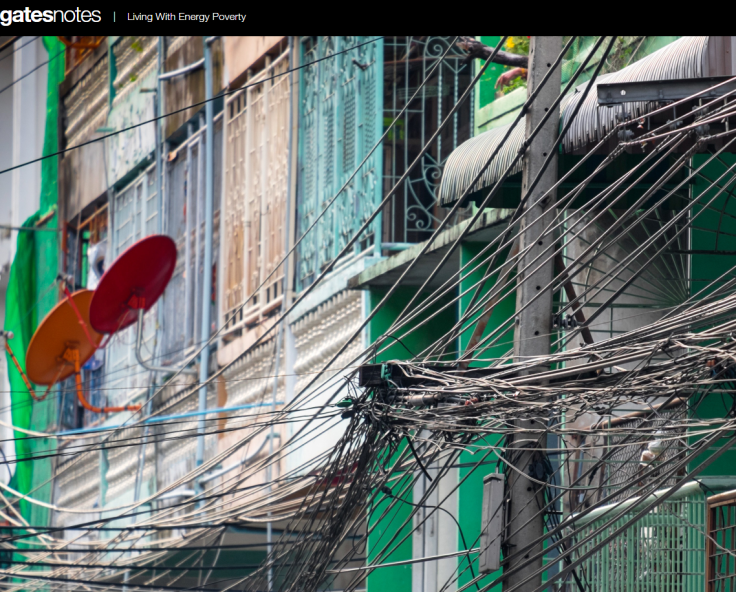 Microsoft's Bill Gates isn't usually one to kick up controversy, but he has sparked outrage among residents of Thailand after claiming they 'illegally tap' into the national power grid to effectively steal electricity.
In a post on the Microsoft founder's blog, GatesNotes, he posted an image of a tangle of wires hanging from a telegraph pole and wrote: "Due to faulty infrastructure, many urban areas suffer from frequent blackouts and power cuts, and the electrical grid often doesn't serve the people who need it most.
I've visited many cities filled with tangled wires such as those in this photo from Thailand, where people have illegally tapped into the grid on their own to get the power they need – at great personal risk."
It's a sight common to anyone who's visited the South-East Asian country, but is it an act of power theft? The statement has caused locals to angrily react to the billionaire's claims and hit back online. Users are quick to point out that the image Gates uses are wires that do not carry power and are no more than telecommunication lines for telephone and TV.
They also objected to the power theft claims, and they didn't hold back from telling him on Facebook:
Further comments include Thai residents saying they "strongly disagree" with the claims and that illegally tapping into power was "extremely rare".
Despite the outcry, the blog post was actually intended to highlight how parts of the world has scant access to essential amenities such as power, with Gates publishing on Facebook with the title Living with Energy Poverty. He continued: "If you can't get reliable electricity, it's hard to make the most of your life. But I've also seen how people can be innovative and resourceful even in the toughest circumstances." But those 'resourceful' comments seem to have hit a nerve.
The post has received hundreds of comments on Facebook, with a number of users criticising the philanthropist for accusing the Thai people of stealing power from the grid. They explain the sight of messy of cables is common as Thailand has not invested in underground, out-of-sight installation found in other cities around the world. However there are a large number of comments praising Gates for bringing to light the struggles some countries face when accessing basic necessities such as electricity, which many people in the Western world take for granted.