Petrolheads, the days of octane-fuelled fun may be facing a future that's going up in fumes after an electric car clocked a new speed record, hitting 0-60mph (0-100km/h) in just 1.5 seconds – over half a second faster than the world's fastest gas guzzler.
The Grimsel race car from Formula Student Team at Academic Motorsports Club Zurich (AMZ) showed off its lightning speed at the Dübendorf Air Base in Switzerland, clocking a 1.513sec time that broke the previous record holder's 1.779sec time.
Made from carbon fibre the Grimsel weighs just 168kg and sports a motor on each wheel to produce a combined 200hp – a power-to-weight ratio no car can come close to, resulting in a neck-snapping 1700Nm of torque. The AMZ team showed off their record-breaking creation in a YouTube video.
The miniature-sized vehicle has space for only a driver in its Formula One-looking shell, which will make some argue is a bit of a cheat considering you won't be able to legally take this on the road. The Porsche 918 Spyder, the world's fastest 0-60mph combustion car, while clocking in a shade slower at 2.2 seconds is far heavier and at least has space for a passenger and groceries (well, you might get a few essentials in its complimentary space under the bonnet).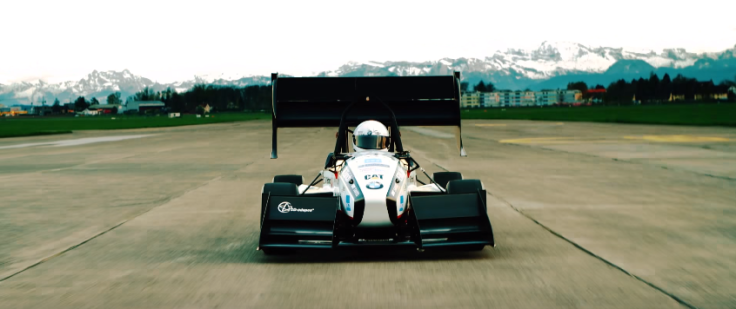 However, it's an impressive feat by the team of 30 students ETH Zurich and Lucerne University of Applied Sciences and Arts, being the second time they have held a world record after claiming the title back in 2014. The car was created as part of the annual Formula Student competition where teams of engineering undergraduates across the world create vehicles to compete in a number of events and will give future electric car designers some food for thought.
AMZ's blink-and-you'll-miss-it creation won't be coming to public roads anytime soon but if you want a speedy electric option in your garage then you could opt for the Tesla Model S P90 with Ludicrous Mode upgrade. That is if you have a spare £96,000 and can live with it going from 0-60mph in only 2.8 seconds.