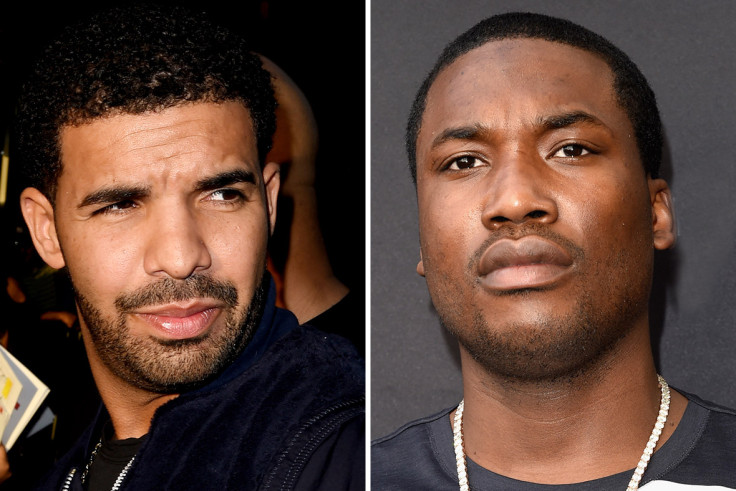 Meek Mill was one of the biggest surprises at the Billboard Music Awards 2016. The rapper triumphed with his latest album Dreams Worth More Than Money which won the top rap album award. His win is even more impressive as he won over rap heavyweights Drake and Kendrick Lamar causing a divide and debate amongst hip-hop fans.
The 28-year-old faced competition from Drake's 2015 mixtape If You're Reading This It's Too Late, Kendrick Lamar's To Pimp A Butterfly album and Dr Dre's Compton. Drake, 29, also received a second nomination for his collaborative mixtape with Future titled: What A Time To Be Alive.
Although Mill did not attend the BBMAs ceremony, hosted at the T-Mobile Arena in Las Vegas, Nevada on 22 May, he commented on his award via Instagram sharing a photo of Billboard announcing his win. Mill's Maybach Music Group label boss Rick Ross gave a speech on Mill's behalf in a video posted on Twitter, telling his followers: "Thank everybody that supported my brother Meek Milly. That new fire on the way!"
Some feel that other more deserving artistes in the top rap album category had been robbed of the award, with one commenting on Twitter: "Lol if you honestly believe that Meek Mill deserved that award over Dr Dre, Kendrick, Drake and even Future, you're tweaking bro." Another said: "That's disrespectful to Kendrick Lamar. That Meek Mill won best rap album over him like wow," while another said: "I can't and I don't want to believe Meek Mill won over Kendrick and Drake. "One other disgruntled fan questioned: "Meek Mill winning album of the year must be a joke... Especially after all the hate he got."
However, there were many Mill fans who jumped to his defence, including one who wrote: "Meek Mill won best rap album over two of Drake's. Wanna know why? Because he's the better rapper and always has been," while another said: "Meek Mill had a better album over Drake and Lamar. IDK why people complaining I guess y'all Never listened to DWMTM. congrats Meek."
Another supporter weighed in: "Yes Meek Mill won best rap album, but Drake did win best rap artist. Meek Mill winning rap album is not going to hurt Drake," and another said: "If you think Meek Mill's album doesn't deserve an award, you never listened to it."
Mill and Drake have been embroiled in serious competition with each other since their epic feud in July 2015. Mill accused the Hotline Bling rapper of using a ghostwriter prompting Drake to respond with two critically-acclaimed diss tracks as a riposte, Charged Up and Back To Back, the latter was nominated for a Grammy award.