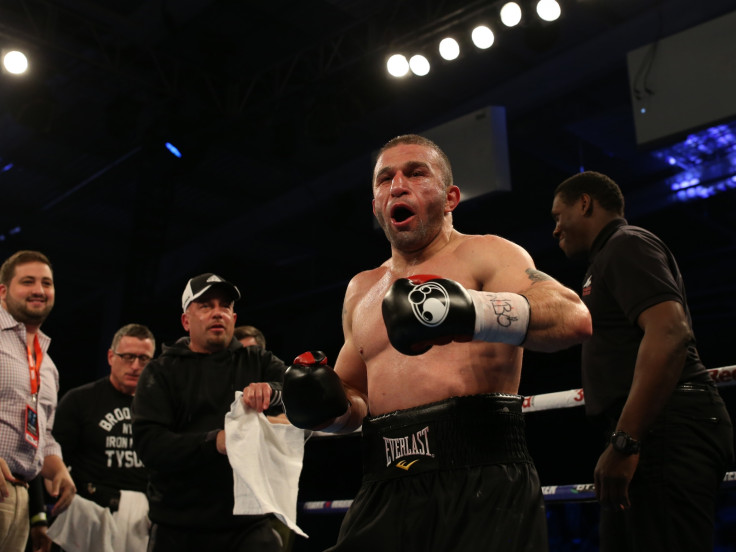 Queensberry Promotions has confirmed Billy Joe Saunders' upcoming WBO middleweight title defence against Avtandil Khurtsidze is provisionally postponed after his opponent was arrested in New York under the Racketeer Influenced and Corrupt Organizations (Rico) Act.
Questions were raised on Thursday (8 June) after the name Avtandil Khurtsidze – AKA "The Kickboxer" – featured on a press release from the US Attorney's Office for the Southern District of New York announcing "the unsealing of three indictments and one complaint charging 33 defendants with a variety of racketeering, fraud, narcotics, firearms, and stolen property offenses".
While his residence was listed as Brooklyn, confusion as to whether it was the same Khurtsidze initially rose due to his age being given as 33. Georgian boxer Khurtsidze is listed elsewhere as being born in May 1979, making him 38.
However, Queensberry Promotions has now released a statement via Frank Warren's official website to confirm the arrest and the postponement of the world title fight against Saunders at London's Copper Box Arena on 8 July.
"Today, Queensberry Promotions was informed that Billy Joe Saunders' mandatory challenger Avtandil Khurtsidze was yesterday arrested in New York and indicted under the Rico Act," the statement read.
"As such, his contest with WBO World Middleweight Champion Billy Joe Saunders scheduled for Saturday 8 July at the Copper Box Arena, cannot take place on that date as his promoter Lou DiBella has confirmed he will be unable to travel."
He added: "We are currently planning to postpone the fight to a later date. However, due to the obvious seriousness of this matter, Queensberry Promotions are given no choice but to wait for more details to emerge before anything can be confirmed."
A translated post from Khurtsidze's official Facebook page read: "Friends, as you know, I went to America yesterday to prepare for the 8 July fight. Immediately after arriving in New York, there was a very serious misunderstanding. I hope that in the near future everything will be cleared up and I will continue to prepare for the fight against Saunders. Thank you for every moment, I feel your support."
IBTimes UK has reached out to Khurtsidze's promoters, DiBella Entertainment, for comment. Speaking to RingTV.com, DiBella said: "It's obviously very disappointing. You don't live people's lives for them. I don't know any details, but this is a development we never expected or anticipated."
A former WBA intercontinental, WBC silver and IBO world champion boasting a professional record of 33 losses, two draws and two defeats from 37 fights, 5-foot-4 Khurtsidze became the mandatory challenger for Saunders' WBO belt in April by beating the previously undefeated Tommy Langford via a fifth-round stoppage in Leicester to claim interim honours.
Saunders has not had the greatest of luck with regards to defending the title he won from Andy Lee in December 2015, pulling out of last year's clash with Max Bursak due to a hand injury sustained in training. He put the belt on the line for the first time before Christmas during an incredibly underwhelming points victory over Russia's Artur Akavov.
Warren confirmed that the 8 July card would still take place sans Saunders, with highly-rated knockout specialist Anthony Yarde taking on Richard Baranyi in a WBO European light-heavyweight title bout. Up-and-coming heavyweight "Dynamite" Daniel Dubois is also due to feature.