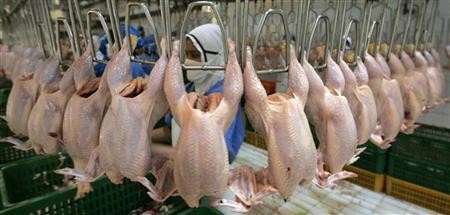 The United Nations reported Monday that a deadlier strain of the bird flu virus had been discovered in the Far East.
The UN has reported that a resurgence of the deadly bird flu virus saying that bird migrations had brought it back to previously virus free countries. The deadlier H5N1 strain of the bird flu virus can sidestep defences of existing vaccines and is spreading through China and Vietnam.
"We're issuing an alert because we expect in the coming weeks to see the virus pop up in unexpected places across a wide area," said Jan Slingenbergh, head of the UN Food and Agriculture Organization's early warning system for animal diseases.
The H5N1 outbreaks in poultry peaked in 2006 with 4,000 across Africa, Asia and Europe. Extensive culling quelled the spread of the bird flu virus with the cost to poultry farmers standing at $20bn so far.
The Department of Health in the Philippines has warned the public of the threat of the new strain of the virus. The strain if the virus is more dangerous than the H1N1 as it has a 60 per cent mortality rate, meaning 6 in ten people die after contracting the virus; the eight people in Cambodia affected with the virus have died Dr. Eric Tayag, director of the DOH National Epidemiology Centre confirmed.
The World Health Organisation says avian flu has killed 331 people since 2003. Experts in the United Kingdom said Tuesday that it is unlikely to have an impact on health of humans in Britain with the UK having 'strong contingency plans' in place to deal with any potential outbreak.
Some of the symptoms of H5N1 are cough, colds and fever. In severe cases, the lungs are affected and if not treated early, it can lead to death.