Bitcoin isn't the only decentralised currency in town; litecoin is built on similar technology and is considerably cheaper - but is increasing in value just as fast. Alistair Charlton investigates.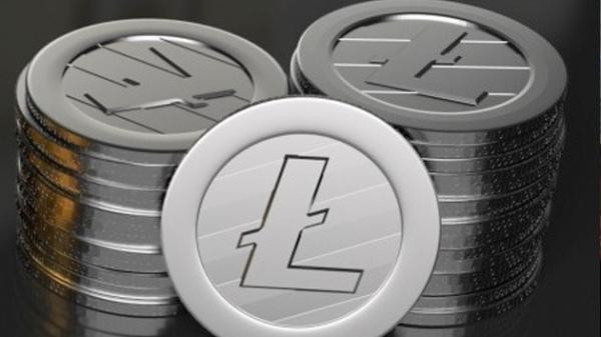 Bitcoin's surging value has made the crypto-currency incredibly appealing to those looking to make a quick buck. But widespread media coverage associating the currency with everything from pizza to space flights has driven its price up, putting purchasing even a single coin out of reach for many.
Thankfully for those looking to get involved in the area there are a number of alternative digital currencies into which 'real world' money like pounds and dollars can be exchanged - either to pay for goods, or in the hope that they too will see enormous gains in value, as bitcoin has this year.
Must Read: What is Bitcoin and how does it work?
While professional investors and economics experts will tell you to avoid bitcoin trading like the plague, the temptation to recreate a Norwegian man's good fortune of turning £15 of bitcoins into £550,000 in four years may prove too tempting for some to turn down.
The most prominent alternative is litecoin, a currency based on the same protocols as bitcoin and introduced by former Google engineer Charlie Lee in 2009.
What's the difference between bitcoin and litecoin?
The main difference between bitcoin and litecoin is the speed at which it can be mined. A block of 50 litecoins is mined by a combined network of miners every 2.5 minutes, whereas the same number of bitcoins takes ten minutes to extract.
Apart from the speed of mining, this also makes litecoin transactions faster, meaning payments for goods or services can be cleared faster than those made by bitcoin - an obvious benefit for retailers.
Another difference is in the total number of coins produced. Litecoin mining will eventually create 84 million coins - four times as many as bitcoin.
Although in theory this suggests litecoin is the cheaper, more plentiful silver to bitcoin's rare and expensive gold, since both coins can be divided into tiny fractions, a comparison to real world commodities is difficult to make.
One litecoin is currently worth around £6.27 according to LitecoinRates.com - significantly cheaper than bitcoin, which was worth £510 at the time of publication.
But where bitcoin has led, litecoin looks set to follow - the currency spiked in April just as bitcoin did and crashed in a similar way, before seeing huge gains through November. As bitcoin surged towards the $1,000 mark, litecoin grew at an equally fast rate, up from $0.05 at the start of the year, to a height of more than $10 by mid-November. Litcoin may only be returning small profits for now, but remember that bitcoin was worth less than $1 just a couple of years ago.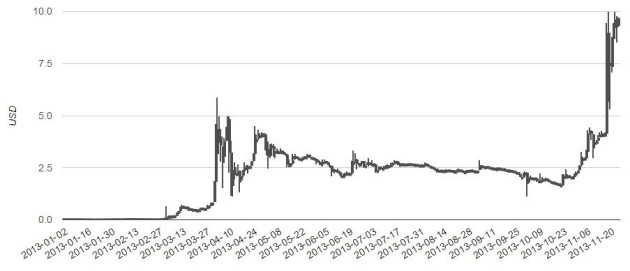 Why buy litecoins?
Other than amateur traders looking to turn a quick profit, many believe litecoin's growing value is being caused by investors looking to spread their funds across multiple crypto-currencies to protect themselves from bitcoin's volatility.
Richard Boase of crypto-currency website CoinDesk suggests the increase in value could be "investors trying to diversify their crypto-currency portfolios in an attempt to protect themselves from what many view as an inevitable crash after an historic high."
Boase adds that litecoin's sudden spike "may be coming on as investors and traders new to the crypto-currency scene discover a plethora of exotic financial instruments, or it may be the collective voices of the crypto-currency hardcore who lend their support to litecoin for ideological and technical reasons."
How do I buy litecoins?
Major exchanges like Tokyo-based Mt Gox are yet to embrace litecoin on the same scale as bitcoin, which can even be withdrawn from special ATMs. Mt Gox said in August it was working on introducing litecoin to its trading platform, but it is yet to do so.
Right now, the easiest way to buy litecoins is through litecoinlocal.org, which lists sellers who are local to you. IBTimes UK found three sellers in London looking to sell between £1 and £2,000 worth of litecoins for between £7.79 and £10.18 per coin.
Due to the lack of participation from the major exchanges, litecoins are more difficult to come by, with most exchanges running out as soon as the currency is made available, but those who have invested believe anyone interested in the currency should be patient and keep trying while the price is still low.
No one knows what will happen to litecoin - in theory it should be no more stable than bitcoin, and many investors will likely get burnt - but as the US and European countries continue to investigate and accept these crypto-currencies, it is unlikely they will disappear any time soon.
Read More: