Bitcoin should be valued at 100 times more than it is now, claim Cameron and Tyler Winklevoss, the billionaire twins famous for their legal disputes over the ownership of Facebook.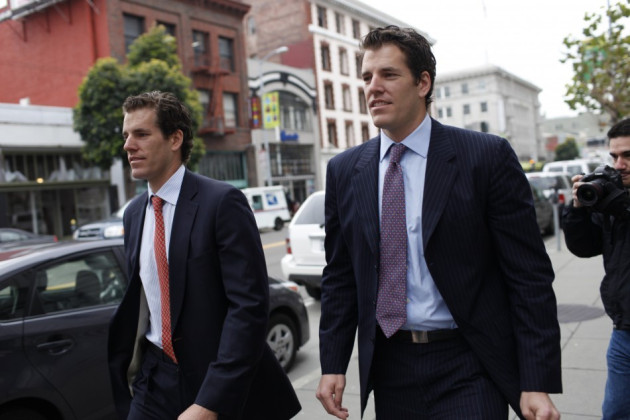 Although Bitcoin's value has risen from $125 to more than $370 (£78 to £232) per coin in just six weeks, leading some to fear another bubble-like boom-and-bust scenario is on the way, the twins remain confident that the virtual currency's market cap will grow to 100 times what it is today.
"The bull case scenario is a $400 billion market cap...the market cap is around $4bn right now," Tyler Winklevoss told CNBC.
Cameron added: "Some people definitely view [Bitcoin] as gold 2.0...it definitely has the properties of gold and people are viewing it that way."
The twins purchased $11 million of Bitcoin in April, when the currency was at a record high of $266 per coin - but the bubble burst soon after, causing the price to crash by more than $100. However, a recent explosion in its value has seen Bitcoin break the $300 barrier and is valued at $374 at the time of publication. Their $11m investment is now believed to be worth more than $30m.
Bitcoin and its anonymous nature, where transactions cannot be traced to individuals, made it the currency of choice for online drug and fire arm retailers such as Silk Road, which was recently shut down by the FBI. But since the site was closed Bitcoin's value has soared.
Tyler Winklevoss said: "The price is double [what] it was before SIlk Road was shut down, so the demand for Bitcoin to use as illicit activities was clearly almost zero."
Not only do they own a sizeable chunk of the 11.9 million Bitcoins currently in existence, the Winklevoss twins are in the process of creating an exchange traded fund (ETF) for the currency. "We filed an amended S-1 [to the Securities & Exchange Commission] in October, and we just still going through the process," Cameron said.
Decreasing volatility
Looking ahead, Tyler expects the market cap of Bitcoin to reach 100 times it's current level, and that the volatility currently being experienced will subside. "It's young, but over time as it gets bigger and more mature, you're going to see the volatility decrease."
Cameron added: "In the next six months you're going to see a tremendous growth in the infrastructure and merchants accepting it."
Bitcoin may be the largest and most well-known virtual currency, but there are alternatives in the form of Litecoins and Altcoins. Cameron said: "Most people agree that virtual currencies are here to stay. Will Bitcoin be the ultimate winner, will there be more than one? It's very possible, but Bitcoin has about five years of first mover advantage and definitely a very entrenched user base.
"I think in the next two years it'll be a completely different landscape, just with the internet and the different between '98 and 2000 or 2001 - it was just a completely different game."
Must Read: