One of the biggest obstacles to mainstream adoption for bitcoin is its price volatility. In the last month alone the value of one bitcoin has fluctuated by more than a third, falling from around $400 (£250) to $320, and then rising up again to $450. It's currently hovering back at around $400.
Such dramatic price swings make using bitcoin as a day-to-day currency infeasible for the vast majority of consumers, and means that merchants that do accept it convert payments received straight into traditional currency.

"Even 1% volatility is not tenable for the average person," Halsey Minor, technology evangelist and founder of CNet, told IBTimes UK. "Real people with bills to pay aren't going to roll the dice with their rent money."
Bitcoin the 'salvation of the US'
In order to address the issue, Minor has developed BitReserve, a payments platform and wallet that eliminates the risk of bitcoin price swings for consumers by pegging the value of bitcoin holdings to a fiat currency such as dollars or euros.
Essentially what it does is bring all the best aspects of bitcoin and its underlying blockchain technology to the world of fiat currencies.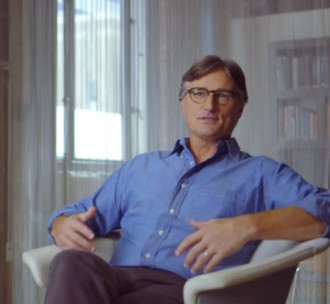 "The aim is to reduce volatility to increase widespread adoption of bitcoin," Minor said. "Bitcoin should be the salvation of the US, not the bane.
"We need an egalitarian system - taking back our currency. Why should we give up innovating on the dollar just because the banks have?"
Through BitReserve it is possible to hold and send value in five different currencies as instantaneously and easily as email, while at the same time eliminating the fees and commissions charged by banks and credit card companies.
Minor claims that it is harder for Facebook to send pictures than it is for BitReserve to send money.
BitReserve is the latest in a new wave of cryptocurrency companies described within the industry as 'bitcoin 2.0' firms, drawing in professional and experienced investors and innovators to the digital currency space.
"There were alot of amateurs and hobbyists getting involved early on," Brian Armstrong, CEO of Coinbase, told IBTimes UK. "Just like with any new technology, the early days are like the Wild West.
"However the second generation of companies we are seeing coming in now are coming with a wealth of skills and expertise with decades of experience in financial services."
'World's first fully transparent financial institution'
Previous services that have launched aiming to stabilize the value of bitcoin include Hedgy and TeraExchange, however this is the first time that a platform has been developed for the average consumer.
BitReserve publishes a real-time, verifiable proof of solvency, describing itself as "the world's first fully transparent financial institution".
It is hoped that such transparency will quell customer fears that may still linger from the infamous collapse of the Japanese exchange MtGox, in which thousands of people lost the equivalent of millions of dollars worth of bitcoin.
"What BitReserve does is let real people live in the world of their own currency and take advantage of all the benefits of bitcoin without having to invest in it or take risks with it," Minor said.
"It lets people participate in the world of bitcoin without having to suffer through the volatility, while also dramatically making the market for bitcoin better."