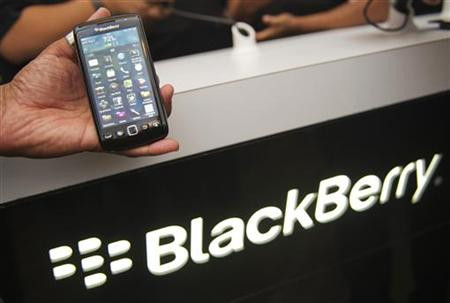 BlackBerrys are still not working to their full capacity Wednesday after a 72-hour server collapse at their Slough data centre hit service across Europe, the Middle East and Africa.
The breakdown has affected BlackBerry Messenger, Internet usage and e-mail, and both corporate and personal users are left wondering what went wrong.
Research in Motion released a statement blaming a "core switch failure within RIM's infrastructure" but has said nothing further on the continued problems.
The glitches have occurred throughout the world with reports from Europe, the Middle East, Africa, India, Brazil, Chile and Argentina.
RIM went on to say: "Although the system is designed to failover to a backup switch, the failover did not function as previously tested.
"As a result, a large backlog of data was generated and we are now working to clear that backlog and restore normal service as quickly as possible."
Twitter has been full of complaints from across the globe, with many BB users hoping to switch to a different smartphone as soon as possible.
But some think the problem is less than people are making out on social media sites such as Twitter.
Sean Wells, who works as a client services administrator in London, wasn't too upset by it: "Some people have gone on like it's the end of the world. At the end of the day it's technology. You have to accept faults, and they're going to happen.
"I had my BlackBerry for 18 months with no major problems whatsoever. I'll be getting the new BlackBerry Bold at the end of the month purely for the simplicity of the keyboard and being able to text and e-mail as that's all I really use.
"Some people depend on their phones as if it's a life support machine. It's a bit crazy. I understand people rely on it for business and things so could have lost work, etc. But it seems the main complaints are teens that most probably don't even pay for their phone bill."
Will Blackberrys become obsolete once the iMessenger on iOS 5 is released?
http://www.ibtimes.com/articles/229647/20111012/ios5-ios-5-blackberry-ipod-iphone-why-is-it-down-crashed-not-working-bbm-internet-email-facebook-twi.htm