Announced at the same time on the same stage and running the same software, the BlackBerry Z10 and Q10 couldn't be more different. As part of BlackBerry's all-in gamble on reinventing itself, the two smartphones are aimed at two very different customers.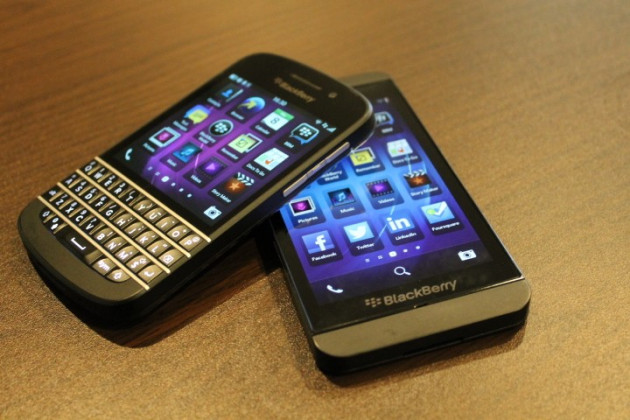 On one side we have the Z10, with its 4.2in touchscreen making the phone as comfortable streaming a film as it is opening a spreadsheet; and on the other we have the Q10, with its much smaller 3.1in screen making way for the phone's major selling point - a physical keyboard.
Design
Both share a distinctly BlackBerry design: subtle, businesslike and exuding quality, the touchscreen Z10 and keyboard-toting Q10 wouldn't look out of place in any boardroom. Having said that, the Q10 just about wins in the design and quality department, thanks to its unique carbon fibre back and aluminium details; by comparison, the Z10's rear cover is made of bendy plastic and is slightly ill-fitting, making it peal open too easily.
Although it has the smaller screen, the Q10 is slightly heavier, wider and thicker than the taller Z10, but each still fits comfortably in the hand, as BlackBerry ignores the super-size phones currently sold by Samsung.
Keyboard
The biggest difference by far is of course the Q10's keyboard. Launched three months prior, the touchscreen Z10 has one of the best virtual keyboards I've ever used; fast, accurate and with an astonishing autocorrect that even works in several languages at once.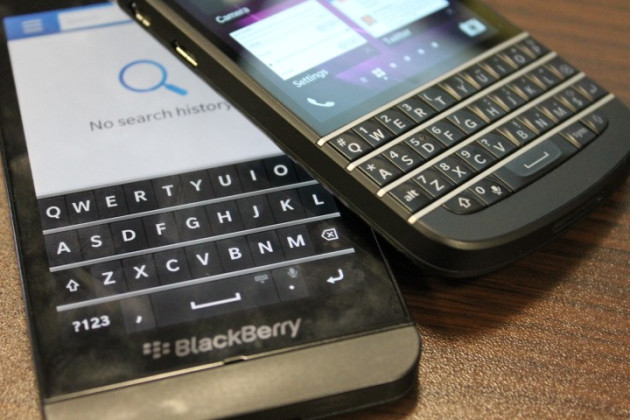 So you might well ask why the Q10's keyboard is needed at all if BB10's onscreen alternative is so good?
The answer is down to personal preference. While I'm happy to use touchscreen keyboards, I know others who can't stand them, and even someone who offered to swap an iPhone 5 for the Q10 based entirely on it having physical keys.
Each key of the Q10 is smaller than those on the Z10's screen, but a groove on each key and metal frets between each row help to guide your thumbs to the right letter, and there's a reassuring click when you press them. For me, the Z10's keyboard wins - it really is the best I've ever used - but rest assured, if physical keys are for you the Q10 does an excellent job, and it's still backed up by Blackberry 10's excellent auto-correct and next word suggestions.
Hardware and Performance
The two BlackBerry's share the same 8-megapixel rear and 2-megapixel front cameras, the same metal volume rocker and power button, and the same ports - micro HDMI and micro USB.
It's a similar story inside, with a 1.5GHz dual-core processor and 2GB of RAM appearing in both phones, along with 16GB of storage and a microSD card slot to increase that by up to 64GB.
Add in shared Wi-Fi, NFC, Bluetooth and 4G connectivity, along with the BlackBerry 10 operating system, and the two phones are remarkably similar. They both perform very well, muktitasking comfortably between apps, playing HD video and not once did I have an application crash on either phone.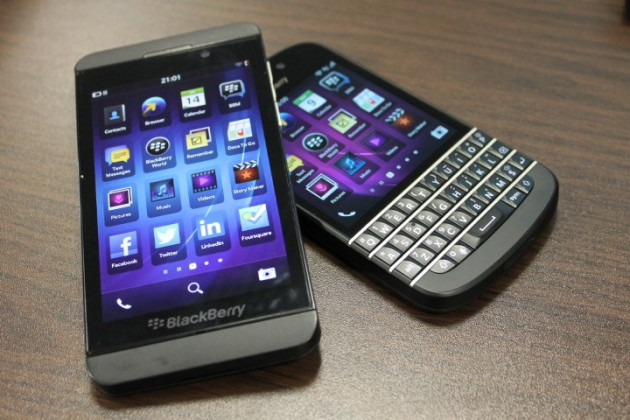 Both phones have the same 1800mAh battery, but because the Q10's smaller screen is less demanding it returns better battery life than the Z10, which I found to struggle with a full day of use, whereas the Q10 had around 30% left after a day of heavy use with push notifications for email, Facebook and Twitter all turned on.
Finally, the Z10's 4.2in screen has a resolution of 768 x 1280 and a pixel density of 355 pixels per inch, compared to the Q10's square 3.1in screen, with a 720 x 720 resolution and density of 328ppi. Both are very sharp and clear, but compared side-by-side the Z10 is much brighter and slightly cooler compared to the Q10's bias towards a warmer, yellow shade.
Which one should I buy?
For me, the BlackBerry Z10 splits itself equally between work and play, while the Q10 is purely a tool to get work done, with less of the distractions of the Z10.
Both have access to BlackBerry World, so both can play films and games, but whereas the Z10's screen makes the phone feel born for the job, the Q10 never quite feels comfortable with Angry Birds or iPlayer; it would rather be keeping your work calendar and email organised.
If you have a work BlackBerry and a personal iPhone or Android, then the Z10 could well replace both once the app catalogue on BlackBerry World improves, striking a balance between spreadsheets and gaming.
Alternatively, if you can't live without a physical keyboard then the Q10 is your must-have phone. Chances are, you value comfortable typing over widescreen movies, in which case the 3in screen is big enough and its improved battery life over the Z10 shouldn't be ignored - especially by heavy users.
There's no denying that BlackBerry has had a terrible few years and its downfall has been well documented, but as a pair the Z10 and Q10 offer light at the end of the tunnel - two tunnels in fact, given how different the handsets are - but only time will tell as to whether the momentum can be sustained.
Must Read: