Bloodhound SSC will attempt to break the world land speed record in October 2017, 20 years after the current record of 763mph was set. The Bristol-based project is now back on track, after a funding shortage halted work on the rocket-powered car and caused a 12-month delay.
Powered by the engine from a Eurofighter Typhoon jet, plus a rocket and the V8 engine from a Jaguar F-Type (which powers the fuel pump), Bloodhound is designed to reach a top speed of just over 1,000mph. It will be driven by RAF wing commander Andy Green, who holds the current land speed record.
Project director Richard Noble, who himself set a land speed record in 1983, said: "This is probably the biggest moment in the project's history. Before we could only see financially a few months ahead but now we can put our foot down and really go for it...We have come through this difficult stage wiser, leaner and fitter."
The sponsor, who has effectively saved the project and made running Bloodhound possible, is expected to reveal themselves in due course.
Built to race across a 12-mile stretch of the Hakskeen Pan in South Africa, Bloodhound is a 7.5-tonne, four-wheel vehicle with a bullet-proof carbon fibre cockpit, three engines and a Rolex speedometer which reads to 1,100mph.
The car is initially powered by an EJ200, the same jet engine used by the Eurofighter Typhoon, then at around 350 mph Green hits a button on his 3D-printed magnesium steering wheel to light the space rocket.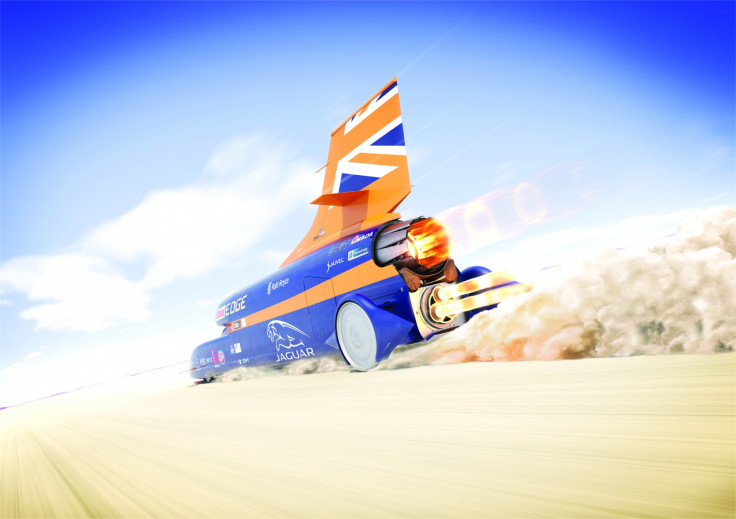 With a 550 horsepower Jaguar V8 acting as its fuel pump, the rocket's contribution takes Bloodhound's total power output to 135,000bhp – more than 150 Formula One cars. At top speed, Bloodhound will complete a measured mile in 3.6 seconds.
Bloodhound created widespread excitement at its public launch event in London in September 2015, but a lack of funding meant the project was delayed by some 12 months. At the launch, Noble announced the first record-breaking run would happen on 15 October 2016, 19 years after the current record was set. With extra funding finally secured, it will now happen in late 2017.
Before that, a 'low-speed' trial run of around 220mph will take place at Newquay aerodrome in June 2017. This will be the team's first chance to run the car under its own power, and try out Bloodhound's data capture and broadcast equipment, which will beam huge amounts of data from the car to the internet during every run it makes between now and October 2017.
Once Bloodhound has broken the current record, the team will set its sights on passing the 1,000mph barrier before the end of 2018.