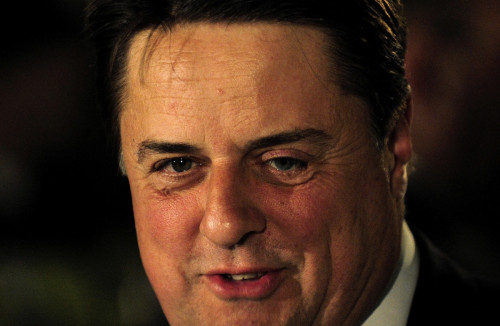 Far right leader Nick Griffin has been declared bankrupt and said it was a "good day" for him.
British National Party leader Griffin declared insolvency at Welshpool and Newtown County Court.
Griffin was sent deep into the red by a debt to a law firm he had been suing for professional negligence. The 54-year-old had no assets he could use to pay the debt and opted for bankruptcy as a result, a party spokesman said.
Until recently, entering bankruptcy would have been fatal for Griffin political career because undischarged bankrupts were barred from holding elected office. However, Griffin's bête noir – the European Union government in Brussels - has saved his skin by abolishing this condition for MEPs.
"This was a debt via a firm of solicitors that he has a considerable professional negligence claim against," said party spokesman Simon Darby told Buzzfeed. "They were offered a substantial amount every month as a settlement but rejected it. That's why we are where we are.
"Nick's taken this on the chin for the party. He's going to be standing again. He's been brave.
"A lot of people are struggling financially and a lot of people have been screwed by the banks and political system. Nick's no different. But a lot of politicians screw the system and in this case the system's screwed Nick."
Following the declaration of bankruptcy, Griffin took to Twitter to announce plans to draw up a guide on dealing with debt.
The story is another blow for the BNP which has been struggling to come to terms with its collapse at the ballot box in recent elections, serious money worries and the emergence of rival far-right groups such as the English Defence League.