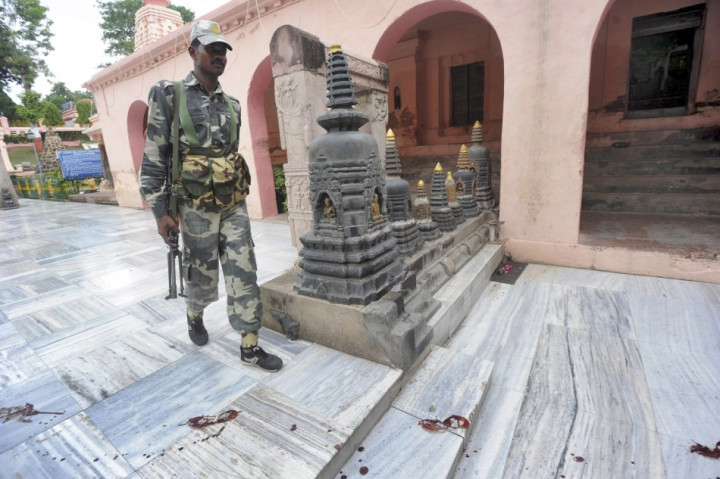 The ethnic conflict in Myanmar between Buddhists and Rohingya Muslims could be directly behind the serial blasts which targeted the Mahabodhi temple complex in Bodh Gaya in the Indian state of Bihar, authorities suspect.
Investigating agencies are also probing whether Pakistan-based terrorist outfits which are sympathetic to the Rohingyas launched the attack in which two monks were injured.
Several months back India's intelligence bureau had alerted the Bihar government to a possible terror attack.
"There have been intelligence inputs that [Islamist groups] were planning to target Buddhists and their religious sites with foreigners in mind ... This follows the ongoing sectarian violence between Rohingya Muslims and Buddhists in Myanmar," a senior official in the ministry of home affairs told reporters.
The bombings appear to bear the signature of the Islamic militant outfit Indian Mujahideen, suggest reports. The defused bombs carried inscriptions in Urdu, said officials.
In all, 10 blasts rocked the temple, a monastery and nearby areas while three unexploded bombs were found.
The police have also detained a man, identified as Anwar Hussain Mallik, in connection with the explosions.
Extremist outfit chief Jamaat-ud-Dawa Chief Hafiz Saeed had recently expressed his support for the Myanmar Muslims.
Saeed, who is presently sheltered in Pakistan and wanted in India for orchestrating the 26/11 Mumbai terror attacks, wrote on his Twitter account on 14 June: "The Indian government is working in cahoots with Burmese government to wipe out Muslim population of #Burma."
Saeed has tweeted similar messages frequently in support of ethnic Rohingyas over their status in Myanmar.
Analysts also see the hand of Pakistan-based terror outfits in the Bodh Gaya blasts.
The Times of India quoted Ajai Sahni of the South Asia Terrorism Portal as saying: "There are long-standing relations between Bangladesh-based Islamist groups, which used to be a happy hunting ground for the ISI [Pakistan's intelligence agency], and the Rohingyas. Given the conflict in Myanmar, it would be easy to activate such links by Pakistani terror groups. Blasts like this have the dual purpose of attacking Buddhist shrines, and India."
The Buddhist-Rohingya conflict in Myanmar has also had serious fallout on other countries including Sri Lanka, Indonesia and Malaysia.