Boeing and Airbus face competition from Bombardier in narrowbody airplanes business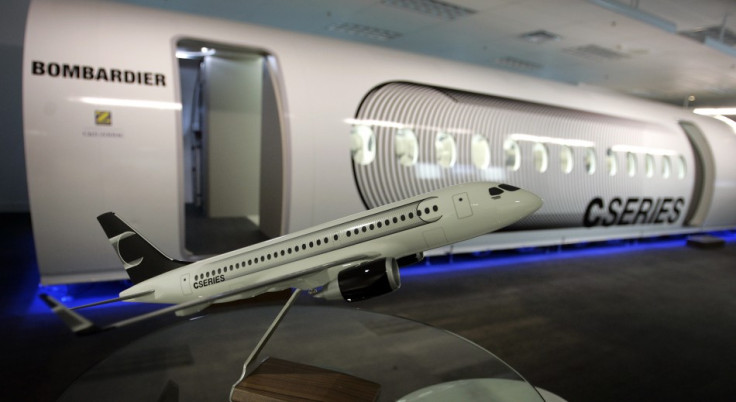 Boeing and Airbus have enjoyed a duopoly in the narrowbody airplanes business, but there is now a new challenger to the leading aircraft-makers. Canadian airplanes manufacturer, Bombardier, is expected to be the third major player in this space, which is currently dominated by Boeing's 737 and Airbus' A320.
Last week, Bombardier received an orderfor its narrowbody planes, namely its CSeries jets from Delta Air Lines. While Bombardier said it would be making a loss provision of $500m (£342.06m, €435.58m) against this order, the deal is expected to add credibility to its CSeries fleet and result in more orders coming in.
"We are seeing some significant orders [for the CSeries]. I think that will make a difference and give confidence to others to look at the aircraft", said Willie Walsh, CEO of British Airways parent International Consolidated Airlines Group (IAG).
Apart from Delta, the Canadian company has received order commitments from the Swiss International Air Lines subsidiary of Deutsche Lufthansa AG. This subsidiary is expected to start operating the new Cseries in July 2016.
Overall, it has received a total order of 325 aircraft of its 100-seat CS100 airplanes and 130-seat CS300 planes. Bombardier is said to be awaiting the finalisation of another order for 45 CSeries jets from Air Canada, the country's flag carrier.
Speaking about the order, Ron Epstein, a Bank of America analyst opined, "The CSeries is a credible threat that is here to stay." However, Bombardier has a long way to go before catching up with Boeing and Airbus when it comes to numbers.
The number of 737s and A320s being manufactured are way higher than the CSeries jets. By the end of the decade, both Airbus and Boeing plan to have an annual production capacity of 690 single-aisle or narrowbody planes, while Bombardier plans to have a capacity to build around 80 such planes, according to The Wall Street Journal.
With regards to Bombardier bagging the Delta order, John Leahy, Airbus chief operating officer for customers, said that he had "doubts about a business model that requires a $500 million loss provision". John Wojick, SVP, global sales and marketing for Boeing Commercial Airplanes also reiterated the same.
Bombardier's CSeries programme, which promises big fuel-efficiency gains, comes after years of cost overruns and delays. It has till date written off $3.2bn on its CSeries programme, with the Canadian government recently bailing out the programme with a $1bn infusion in exchange for 49% stake in the programme.
© Copyright IBTimes 2023. All rights reserved.