BAE Systems, Airbus and Finmeccanica seen gaining from Kuwait's $8bn deal to buy Eurofighter Typhoon jets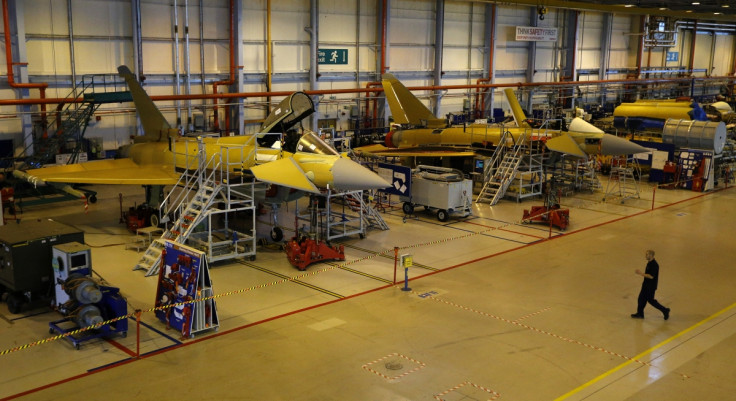 Kuwait has finally signed a deal with the Italian government to buy Eurofighter Typhoon jets. The deal is expected to give a boost to the companies involved in the making of these jets, among them BAE Systems, Airbus and Finmeccanica.
The Typhoon jet, which is considered to be the most advanced aircraft in the RAF's arsenal, has the capacity to fly at a maximum speed of around Mach 2 (1,550 mph). The jets for Kuwait will be fitted with Electronically Scanned radar, a type of radar that allows pilots identify potential targets over longer ranges. The radar will also give the pilots a tactical advantage as it will give them a vision of 200-degrees, which is greater than rival fighter jets.
The deal, though formally signed now, is not new. The broad terms of the deal were in fact agreed upon by both the countries in September 2015. According to the deal, whose estimated value is about €7bn (£5.62bn, $7.96bn), Kuwait will buy a total of 28 Eurofighter Typhoon jets. Of these, 22 will be single-seat jets while the remaining will be two-seater.
Finmeccanica is set to benefit the most in terms of the deal value. While the Italian group is set to receive about 50% of the estimated €7bn, Airbus and BAE, which are in charge of making the jet's front fuselage, tailplane and other smaller parts, will together receive the remaining half.
This deal is also expected to help BAE safeguard the jobs of its employees in Lancashire, a county in North West England. BAE said the deal was a "massive boost" for the Typhoon programme, which would help secure its production lines until 2018. "The State of Kuwait will be the third country in the Middle East, and the eighth country overall, to operate the aircraft. This confirms Typhoon's position as the most advanced new generation swing role combat aircraft available today," the FTSE 100-listed BAE said.
For Finmeccanica, which is working on developing a new radar system for the jet, this deal will help sustains about 1,000 jobs at its Luton and Edinburgh sites. Mauro Moretti, chief executive of Finmeccanica, said the deal was its "largest ever commercial achievement".
© Copyright IBTimes 2023. All rights reserved.