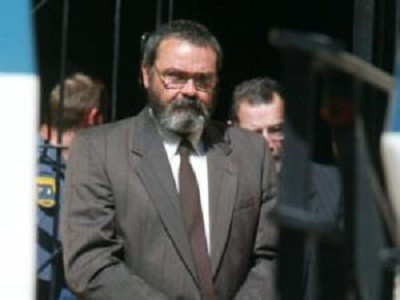 Mike Du Toit, the leader of the right-wing South African organisation Boeremag, has been found guilty of plotting to kill former president Nelson Mandela.
The former schoolteacher was found guity of treason at Pretoria High Court, following a trial which encompassed separate hearings over a period of nine years, and received evidence from more than 200 witnesses.
The court also ruled that Du Toit masterminded nine separate bombings in the Soweto township in 2002, killing one person.
Du Toit will be sentenced at a later date, and it is thought that he could receive a life sentence for leading the assassination plot.
Twenty one other Boeremag members are currently on trial at Pretoria High Court in connection with the bombings and assassination plan.
Blueprint for revolution
During the trial, the court heard that Boeremag, which means 'Boer Army' in Afrikaans, planned to return South Africa to white rule, and expel most of the country's black population.
The plan came to light when police raided Du Toit's home in October 2001 and found a blueprint for revolution, hidden on his computer in a file known as Document 12.
One of Du Toit's main aims, according to witnesses, was to replace the African National Congress-led government with an all-white Afrikaner military regime, and to kill former President Nelson Mandela as he "was still seen as a peace figure".
To achieve his goal, Du Toit planned to spread chaos throughout the country by taking over cities and military bases, chasing black South Africans and Indians out of the country or organising mass shootings.
To help kick-start his coup, Du Toit also contemplated blowing up the Vaal dam, shooting down a Boeing aeroplane to create a "World Trade Centre situation", and blowing up power lines to cut off electricity to major cities, the paper added.
The police raid forced Du Toit to go on the run, before he was arrested along with 21 others in April 2002, in the wake of the Soweto bombings.
Witnesses told the court that, prior to his arrest, Du Toit recruited followers in the army, police services and Eskom, a South African electricity public utility, creating his own private army.
The court also heard on 26 July that Du Toit remained convinced his plan would succeed, even after his arrest.
In his summary, Judge Eben Jordaan said: "We can come to no other conclusion but that accused number one [Du Toit] was a main role player in planning to overthrow the existing government."
Du Toit and his lawyer declined to comment after the verdict, but he is expected to appeal, according to the Mail&Guardian newspaper.