Boko Haram leader releases new video dismissing claims that Nigerian army defeated them
Nigerian President Muhammadu Buhari had said on Christmas Eve that the extremist group had been defeated.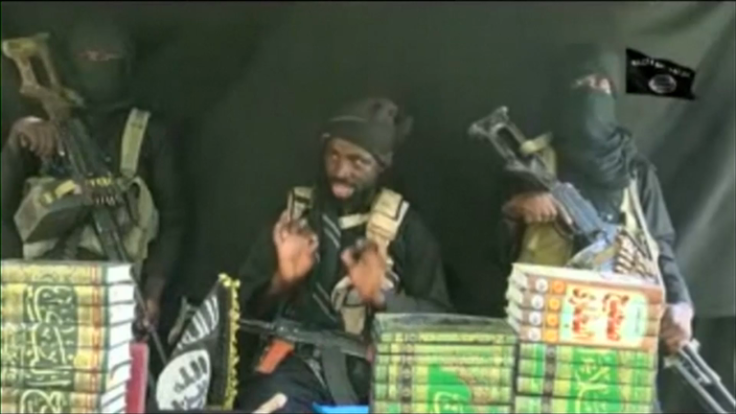 In response to Nigeria's claims that Boko Haram had been defeated, the terrorist group's reclusive leader released a new video confirming that they were still safe and had not been crushed. In the footage which was released on 29 December, Abubakar Shekau said that they still had control of their stronghold in the Sambisa Forest and shamed the government for spreading lies.
"We are safe. We have not been flushed out of anywhere. And tactics and strategies cannot reveal our location except if Allah wills by his decree," Shekau said in the 25-minute video.
"You should not be telling lies to the people," he said, referring to Nigeria's President Muhammadu Buhari, who in a Christmas Eve statement, announced that a military campaign had led to the "final crushing of Boko Haram terroristsin their last enclave in Sambisa Forest".
"If you indeed crushed us, how can you see me like this?" the group's leader asked, flanked by masked armed fighters. "How many times have you killed us in your bogus death? "Your soldiers want a break, so they said they finished the job."
In the footage, Shekau said that the video had been filmed on Christmas Day, but Nigerian army believes it is simply propaganda and a desperate effort by the group to prove it still holds power in the forest region.
"We are on top of the situation, all hands are still on deck," Ezugwu told Al Jazeera. "This defeat is final and it [Boko Haram] will not spread to other parts of West Africa." Brigadier-General Victor Ezugwu, a Nigerian army commander told Al Jazeera, less than two days before the video was released.
Last year, Boko Haram pledged allegiance to the Islamic State group but was immediately dragged into a power struggle after the IS high command challenged the group's current leadership. In August it was announced that Shekau had been replaced as leader by Abu Musab al-Barnawi, the 22-year-old son of Boko Haram's founder Mohammed Yusuf.
© Copyright IBTimes 2023. All rights reserved.