A faction of the Nigeria-based terror group Boko Haram has warned US president-elect Donald Trump that "the war has just begun". The faction leader, Abubakar Shekau, made the comment in an audio recording posted on social media on Sunday (13 November 2016), according to Nigerian media.
"Do not be overwhelmed by people like Donald Trump and the global coalition fighting our brethren in Iraq, Syria, Afghanistan and everywhere. We remain steadfast on our faith and we will not stop. To us, the war has just begun," Shekau was quoted by the Sahara Reporters website as saying.
Who are Nigeria's Boko Haram?
Boko Haram, which has renamed itself Iswap, fights against Western influence in Nigeria and aims to impose its version of Sharia law throughout occupied territories.
The group launches attacks in Nigeria and neighbouring countries in a bid to take control of more territory. Three Nigerian states – Adamawa, Borno and Yobe − have been under a state of emergency since May 2013.
Boko Haram has killed more than 20,000 people since 2009 and was deemed the world's deadliest terror group, surpassing Islamic State in November 2015. Nigeria has also become the world's third-most terrorised country as a result of the group's violent insurgency.
"We're done with Obama, now we're going to start with Trump... we remain convinced by our faith and we will not stop. For us, the war is just beginning,"Shekau added, according to news agency AFP.
It is also believed that Shekau claimed responsibility for an attack that resulted in the death of some Nigerians soldiers, including Lieutenant-Colonel Muhammad Abu Ali, earlier in November.
The Islamist fighter made the remarks days after Republican Trump defeated Democratic presidential candidate Hillary Clinton for the US presidency.
Fight against Boko Haram
Boko Haram has waged a seven-year-long insurgency in north-eastern Nigeria, killing thousands of people. The conflict, which erupted in 2009, has spilled over into neiughbouring countries, sparking a grave humanitarian crisis in the Lake Chad basin region, where 2.6 million people are currently displaced.
In addition to its own military operation Lafiya Dole, Nigeria is now leading a regional offensive – consisting of 8,700 troops from Nigeria, Niger, Chad, Cameroon and Benin – against Boko Haram.
The offensive has scored some successes, such as the recapture of key territories and the release of thousands of civilians held captive by the group.
Although Nigeria's President Muhammadu Buhari declared a technical victory over the fight against the insurgents in December 2105, Boko Haram still carries out attacks, with security experts warning that underlying issues such as disenfranchisement, poverty and strong links with the Islamic State (Isis) would continue to pose major threats to stability in the region.
Earlier this year, the group split into two factions after Shekau was replaced with the IS-appointed Abu Musab Al-Barnawi, former Boko Haram spokesperson.
Shekau, however, denied he had been replaced and claimed al-Barnawi was staging a coup against him.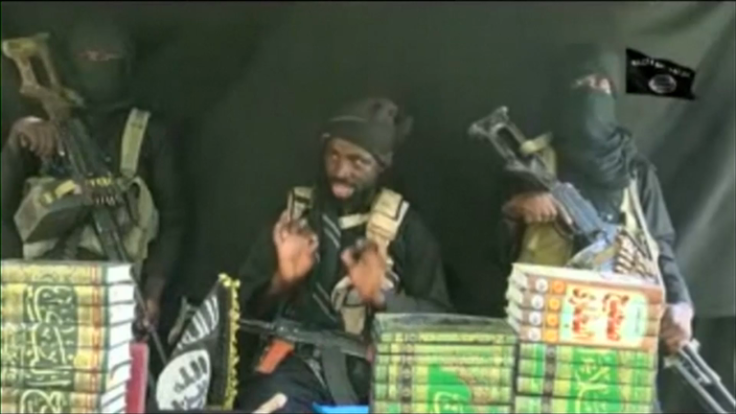 US assistance to Nigeria
The US, one of Nigeria's closest allies, has repeatedly condemned Boko Haram attacks. In October 2015, outgoing US leader Barack Obama reiterated that the US "continues to support the governments and people of the Lake Chad Basin region in their ongoing struggle to defeat Boko Haram".
Obama added his country would provide the Nigerian army with intelligence personnel and training. The US also said it was considering lifting its arms ban on Nigeria. The embargo is part of the Leahy Law, which forbids the US from providing military assistance or funding to countries that commit – or are suspected of committing – gross human-rights abuses with impunity.
---
Nigeria up close: Check out our Flipboard magazine
---