Bolivia: Incumbent president Evo Morales set to lose bid for fourth term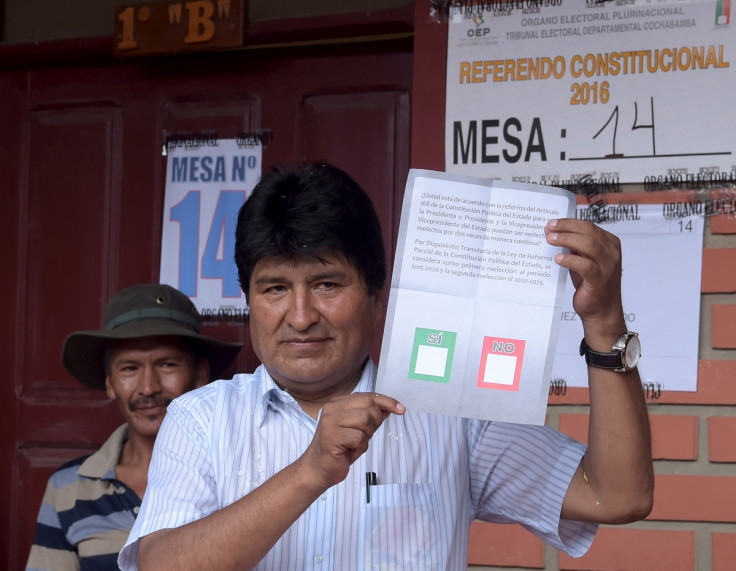 Bolivian President Evo Morales has reportedly narrowly lost his bid to run for a fourth term by amending the country's constitution, exit polls show. One poll suggests that 52.3% voted against the proposal, while another stated it was 51%.
Morales, an indigenous Aymara and former coca leaf producer who has been in office since January 2006, claims he needs more time in office for reforms, the BBC reported. The proposal would have allowed the three-term president to remain in power until 2025. His current term is set to end in 2020.
According to the BBC, despite the loss and reports of celebration by the opposition in the main city of La Paz, Morales continues to be popular. Morales, who is Bolivia's first head of state of indigenous origin, herald a growing economy in the last 10 years. However, many Bolivians believe he should not be permitted to serve 19 continuous years as president. The economic boom has also ended, with the country's revenues from natural gas and minerals down 32% last year.
The vote comes at a difficult time for the president. According to The Associated Press, Morales has been hit by an influence-peddling scandal involving his former lover and a deadly incident of political violence in the last two weeks.
Morales' former lover was named sales manager of a Chinese company in 2013 that has won almost $500M (£350M) in mostly no-bid state contracts. He denies impropriety and claims he last saw the woman in 2007.
Meanwhile, the country was rocked by the asphyxiation deaths of six municipal officials in El Alto. Pro-Morales forces are accused of setting the fire that killed the officials and destroying evidence that allegedly incriminated the previous mayor in payroll corruption.
Vice President Alvaro Garcia Linera has asked that voters wait for the official results. "Opinion polls, especially exit polls, make mistakes," he said to reporters. "They don't take into account the vote abroad. They don't go to the more remote locations, where there is more support for our socialist movement. It's highly likely that the numbers shown by the opinion polls will be very different from reality."
Ballot counting has been particularly slow, with electoral authorities saying the delay is affecting rural areas. In the province of Santa Cruz, frustrated voters allegedly burned ballot papers and ballot boxes after several polling stations openings were delayed. Associated Press reported that with just 8% of the ballots counted, the referendum was being rejected by 65%.
The current constitution of Bolivia was enacted during Morales' initial term and allows presidents and vice presidents to serve two consecutive terms. The president's first term was not counted in the new change and Morales was allowed to seek re-election another two times.
© Copyright IBTimes 2023. All rights reserved.