The president of Bolivia has demanded his US counterpart, Barack Obama, to "apologise" to Venezuela for its "threats".
This week, US President Obama signed an executive order declaring Venezuela a "national security threat" and ordered sanctions be imposed on seven officials from the Latin American country - a possible precursor to sanctions against the country itself, as previously seen in Iran and Syria.
In a press conference in the city of Cochabamba, the fourth largest city in Bolivia, the Bolovian leader, Evo Morales, criticised Obama's claims that Venezuela is a threat to the America's national security.
He warned Obama that if he does not apologise, he will be faced with "anti-imperialist presidents" at the Summit of the Americas, which will be held on 10 and 11 April in Panama.
Morales said that by that decision, the US is "planning military intervention to Venezuela", adding Obama's move "is a threat not only to Venezuela but to Latin America" and democracy".
"If Obama doesn't want to meet his match before the Summit of the Americas, he needs to apologise to Latin America and especially Venezuela, or [he] will face anti-imperialist presidents, with anti-imperialist governments," Morales warned.
According to the Bolivian president, all countries that will take part in the Summit of the Americas have "rejected the threat", and, in his opinion, it would be "better" for President Obama to "get [on] well" with them ahead of the summit to discuss other development issues.
Venezuela challenges Obama
The relationship between the two ideological enemies, Venezuela and the US, has been difficult for a number of years, but this is the worst flare-up since Venezuela President Nicolas Maduro took power in 2013.
Without specifying how Caracas represented such a threat, the Obama administration said Venezuelan officials had been involved in increasing repression of opponents and those voicing dissent, including students.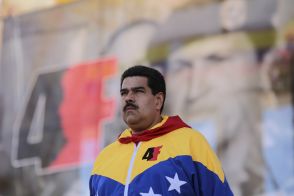 The Maduro government, meanwhile, has demanded evidence of how it threatens US security.
Conversely, it accuses Washington of helping coup plotters and preparing a military invention.
Ridiculing the US qualification of Venezuela as a security threat, Maduro said on Thursday he may travel to Washington to challenge American counterpart Barack Obama.
"We demand, via all global diplomatic channels, that President Obama rectify and repeal the immoral decree declaring Venezuela a threat to the United States," the Venezuelan president said.
Venezuela is the fourth largest supplier of oil to the US.