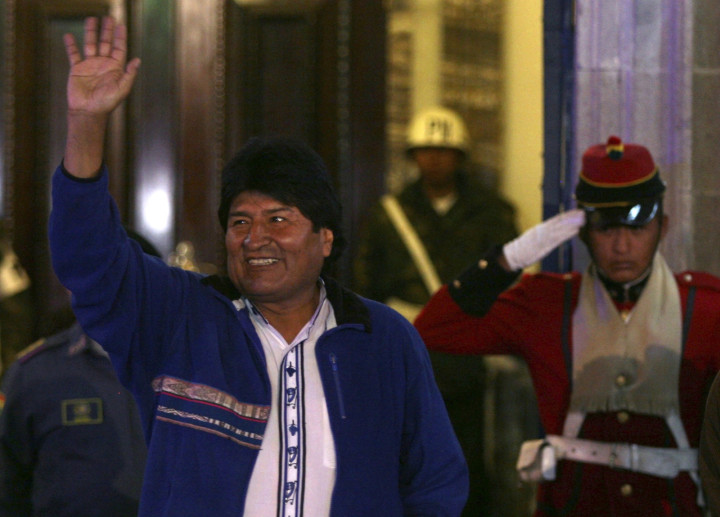 Evo Morales has claimed victory in the country's presidential election. The win will give him a third term in office.
Riding on a wave of populist measures and social welfare programmes, the former coca farmer said the victory is a "triumph for anti-imperialists and anti-colonialists".
Though the official results are yet to be announced, exit polls and preliminary results place Morales well ahead of his rival contenders.
"We are going to keep growing and we are going to continue the process of economic liberation," Morales told thousands of his supporters from the balcony of the presidential palace in the capital La Paz.
"This was a debate on two models: nationalisation or privatisation. Nationalisation won with more than 60% [support]," he said referring to the exit polls.
He also dedicated the victory to Cuban communist leader Fidel Castro.
The closest runner-up, Samuel Doria Medina, trails with 25% vote. About six million Bolivians cast their votes in the presidential and congressional elections on Sunday, 12 October.
Morales's Movement Toward Socialism is tipped to secure a majority in the Congress as well which will give him a free hand to push through reforms.
Morales has vowed to consolidate his socialist reforms in the booming gas-powered economy of Bolivia.
Despite allegations of corruption in the government, Morales managed to capitalise on the booming economic growth and reduction of poverty ever since he took office in 2006.
The South American nation has been witnessing a steady 5% annual economic growth, higher than the region's average.
Morales's opponents have said he is trying to monopolise political power by wiping out the opposition and by buying out the media, which are critical of him.