Mayor Boris Johnson: London Relies on Islamic Finance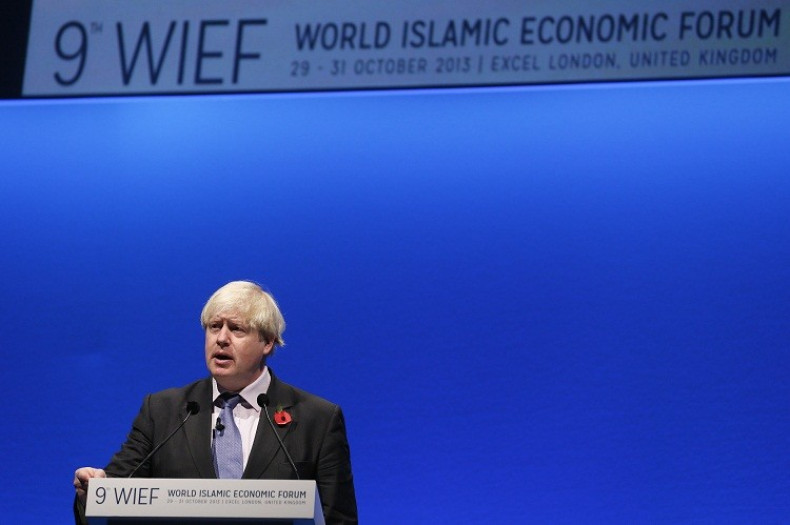 London Mayor Boris Johnson claimed many of the big infrastructure projects in the city would not take place without the aid of Islamic finance arrangements.
Speaking at the 9th World Islamic Economic Forum (WIEF), taking place in London and for the first time outside of a Muslim country, Johnson used the Malaysia-backed Battersea Power Station development project and the Qatari-funded Shard as examples of the capital's dependence on shariah-compliant finance.
"[Islamic finance] enables us to go ahead with the financing of quite stupendous projects," Johnson told conference delegates.
"This is part and parcel of allowing us to get ahead with projects in our city that otherwise would not go ahead."
He reiterated his ambition of making London a global centre for Islamic finance, an industry forecast to be worth $2.6tn (€1.9bn, £1.6bn) by 2017 and which has grown by around 30% each year since the millennium.
"This is a market that's going to grow exponentially … London's always been at the forefront of financial services," he said.
IBTimes UK asked Johnson why, given the UK is accused of being London-centric, should the capital be made a hub of Islamic finance instead of places such as Bradford or Birmingham where there are sizeable Muslim populations.
"It's the greatest financial centre on earth and this is the first step, but it will be good for Bradford. Jobs and growth that take place here [in London], investment that takes place here, has a massive spillover effect on the rest of the country," he said.
Johnson also said that he would like to see Arabic taught more widely in British schools, after making similar remarks about Mandarin during a visit to China.
However, he said it is crucial that those coming to do business and live in London speak the English language.
"I want everyone in our city to have that basic economic tool. It's not fair on those people living in this city who have been here quite some time … if they cannot use that basic economic tool and participate in london life in the way they should," said Johnson.
In a typically colourful speech, Johnson said he wanted to "extend the offer of Offa," a reference to the 8th century King of Mercia who ruled over London.
Offa had a gold dinar minted with an Arabic inscription on one side of the coin. It is thought the coin was used in trading with the Islamic world and a copy can be seen in the British Museum.
UK and Islamic Finance
The UK government is attempting to capture a significant portion of the lucrative global Islamic finance market.
Prime Minister David Cameron has unveiled the first ever government sukuk - an Islamic bond - to come from the non-Muslim world. The UK hopes to raise £200m from its sukuk.
Moreover, Cameron promised to make the UK finance environment more accommodating for Muslims, who adhere to strict rules around banking. For example, they do not believe in making interest on a loan.
"We have already removed the double tax on Islamic mortgages and extended tax relief on Islamic mortgages to companies as well as individuals, and just last week we made new commitments to open up new forms of student loans and business start-up loans for Islamic students and entrepreneurs," said Cameron in his speech to the WIEF.
"Let me be clear what this means. Never again should a Muslim in Britain feel unable to go to university because they cannot get a student loan - simply because of their religion.
"Never again should a Muslim in Britain feel unable to go to start a business because they cannot get a Start-up Loan - simply because of their religion.
"The message is simple: Britain is a country ready to welcome your investment, a country that values your friendship, and a country which will never exclude anyone because of their race, religion, colour or creed."
Ethical Asset Management, which was the UK's first Shariah-compliant asset manager when it was created in 2010, claims the country could capture as much as £1tn of the world's Islamic finance market.
Its chief executive, Saadat Khan, has said Muslims are underserved as a market because many of the financial products on offer are not truly Shariah-compliant.
"There are tens of billions of dollars looking for a suitable home that are doing nothing at present due to the structured nature of many Shariah-products currently available on the market," said Khan.
"Several of these are described as Shariah-compliant or even Shariah-inspired. However, a significant number of investors are not interested in them because they are very similar to conventional products in all but name."
Consultancy firm Oliver Wyman predicts that there will need to be at least 150 Islamic finance institutions by 2020 to meet the ever-growing demand.
There are more than 20 UK banks offering Sharia-compliant products, such as HSBC and RBS. There are also three Sharia-only institutions, including the Islamic Bank of Britain (IBB).