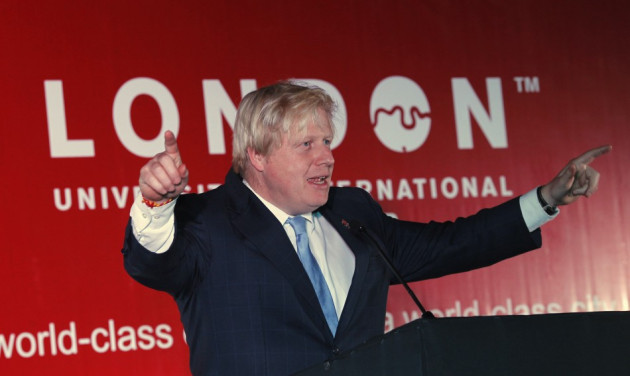 London Mayor Boris Johnson has criticised the French government over its recent row with Indian steelmaker ArcelorMittal, and invited Indian corporations to set up home in Britain rather than France.
Addressing a group of prominent businessmen in the Indian capital New Delhi, the outspoken Johnson called the French Industry Minister Arnaud Montenbourg "eccentric," and referred to the sans-culottes, a radical group prominent during the French revolution in the late 18th century.
ArcelorMittal, a steelmaking firm owned by the Indian business tycoon Lakshmi Mittal, was kicked out of France for not showing "respect" to the country.
In response, Johnson said: "On a day when the sans-culottes appear to have captured the government in Paris and a French minister has been so eccentric as to call for a massive Indian investor to depart from France, I have no hesitation or embarrassment in saying to everyone here 'venez a Londres, mes amis' [Come to London, my friends].
"Come to London, come to the business capital of the world, the place where 73 Indian firms are listed on the London Stock Exchange, where Indian companies already raise 53 percent of their international equity, a city that has the largest banking and financial sector anywhere in the world, but which is at the cutting edge of all the great growth businesses of the 21st Century.
"I have a simple message for everyone here, our Indian friends. Following the demarche of Monsieur Montebourg, who is obviously cheesed off by what is happening in the eurozone, don't wait to be persecuted by the sans-culottes in Paris. Don't wait to be put in the tumbrels by the regime of Monsieur Hollande. Venez a Londres."
The attendees have reportedly been impressed by Johnson's performance, garlanding him with praise.
Alongside "promoting London and enhancing further economic links" between the two countries, Johnson also found time to address university students on the benefits of British higher education.
Speaking at an Indian business school, he added that the Indian government should relax the existing strict laws in order to attract investment in the country.
"I would humbly and respectfully suggest there are more ways in which India could experiment with more openness. If a British insurance company is able to reduce their premiums for household and medical insurance for an Indian person on a modest income, then that person will be able to spend a larger share of their wealth on other consumption," said Johnson.